If you are going to surf Tahiti, this article will provide you with all the information you need. From general travel info, to surf seasons, surf spots, and everything else you need to know about surfing in Tahiti.
About Surfing in Tahiti
Whenever someone is talking about the surf in Tahiti, inevitably, what comes to mind is those giant barrels at Teahupoo. We've all seen these videos with the heavy monster waves crashing over the shallow reef at the WSL championship event. Indeed, Teahupoo is the wave that put Tahiti on the world's surf map. However, surfing in Tahiti has much more than that to offer.
Tahiti is the biggest Island in French Polynesia. It is located in the Pacific Ocean, south from Hawaii and North East from Australia and New Zealand. Shaped like the figure 8, this Island has an incredible landscape. Actually, it is considered one of the most beautiful Islands on earth, with high mountains, waterfalls, volcanos, and blue lagoons. Its black sand beaches surrounded by coral reefs established Tahiti as a high-end holiday destination.
As for the surf in Tahiti, it is definitely the best you can get. With year round swells and warm water, Tahiti offers great variety of surf spots for any skill levels. Therefore, you don't necessarily have to be a professional in order to surf in Tahiti, all you need is a surfboard and some good will. Moreover, compare to other surf destinations such as Indonesia or Puerto Rico, the lineups in Tahiti are relatively uncrowded, which makes it even more fun. 
Travel Information
Language- French.
Population- about 190,000.
Currency- CFP franc.
Calling code- +689.
Time zone- GMT -10.
Pros- perfect barrels, warm water, low crowds.
Cons- shallow reef, hard to reach.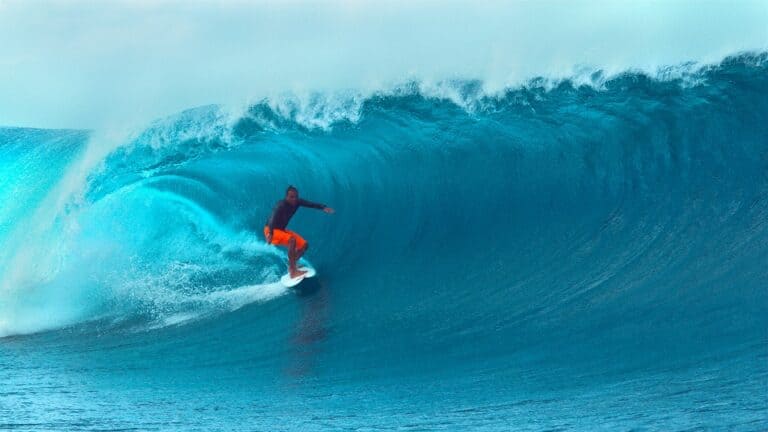 Surf Seasons in Tahiti
In General, you can surf in Tahiti any day of the year and score some good waves. Since it is an Island that picks up swells from all directions, the surf is always up at some of the beaches. That being said, depending on your skill level, you might want to choose your favorite time according to the following breakdown:
The winter in Tahiti, which is also the dry season, lasts from May to September. During these months the south swells form Antarctica hit the Southern beaches with massive power. These beaches on the South Coast are famous for hollow barrels and shallow reefs. Therefore, if you are an advanced surfer, this is the time you want to surf in Tahiti.
The summer, in contrast, lasts from Novembers to March. This is the rainy season, and the time for the north swells to hit the Northern beaches of the Island. These north swells has less power than the south ones, and they produce smaller waves. Don't get it wrong, the surf is still consistent during this time, but it hardly exceed the 6 feet. Moreover, the waves on the Northern beaches break over a sandy bottom, which makes it even easier to surf. For these reasons, summertime is the best time for beginners and intermediates to surf in Tahiti.
The transition months between the seasons, spring and fall, are so called "shoulder season". During these months the swell is less predictable, but still, you can always find some good waves.
As for the weather, it is always warm in both the dry and the wet season. The water temp ranges from 24°C to 28°C (75°F to 82°F), and therefore, when surfing in Tahiti, there is no need for a wetsuit.
Surf Spots in Tahiti
As mentioned, when surfing in Tahiti you will be able to choose your surf spots according to the time of the year. South Coast during winter, and North Coast during summer. Either way, you will have good selection of breaks to choose from. In detail, those are the best surf spots in Tahiti:
Surf Spots in the South Coast of Tahiti
Teahupoo:
With no doubt, this is the most famous spot in Tahiti. In fact, this wave is known as probably the heaviest wave on the planet. You can get to this wave by a boat or by a 15 minute's paddle from shore. Then, when you get to the lineup, you will see the beautiful mountains of the Island in one side, and huge mountains of water from the other side. Somehow, the shape of the bottom and the nearby river mouth create a wave like no other in the world. We are talking about a huge barrel that sucks all the water bellow it to a very thick lip, and crushes over an extremely shallow reef. This wave is no joke, it is the scariest one you can imagen. For that reason, only professional surfers can surf in Teahupoo. Moreover, every year in August, the WSL Billabong Pro competition takes place here, and you can watch the best surfers on the planet facing this wave. Teahupoo is a "one of a kind phenomenon", no words can truly describe it.
Papara:
This black sand beach offers great surf for all skill levels. Actually, it is one of the most popular spots in Tahiti. Papara is an absolute swell magnet. When it's small, beginners can practice here with no danger. However, on a big swell it can challenge even the best surfers out there.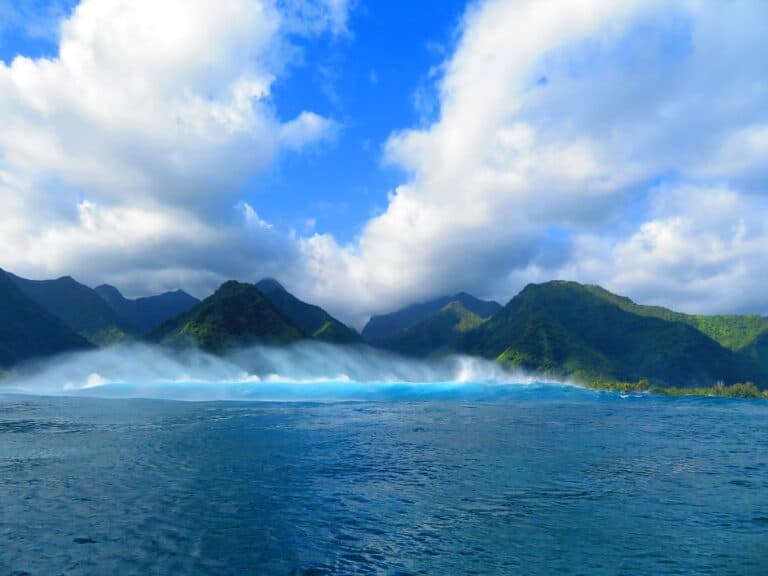 Vairao:
This left hander is probably the longest wave in Tahiti. The waves here break with perfect shape over a very shallow reef, and even though it doesn't have as much power as Teahupoo, it is still a fast hollow wave, suitable for advanced surfers only. Since getting to this spot requires a boat ride, it is not crowded at all.
Taapuna:
This reef break produces a hollow left ride over a shallow reef. Due to its proximity to the city and its high quality, the lineup here is more crowded than the other spots.
Maraa:
A bit south from Taapuna, this is another typical Tahitian reef break. The waves here also break to the left side over a rocky bottom, and it is suitable mostly for good surfers. Due to the shallow reef, high tide is the best time to surf this spot.
Haapiti:
Riding this wave is just pure fun. Compare to other spots, this spot is much user friendly. Still a reef break, still hollow, but intermediates can enjoy it too. On a good day you can get here extremely long left rides.
Atiha:
This wave breaks far in the deep water, in front of Moorea Island. It has a beautiful "A-frame" shape, and you can get here some pretty long rides to both sides.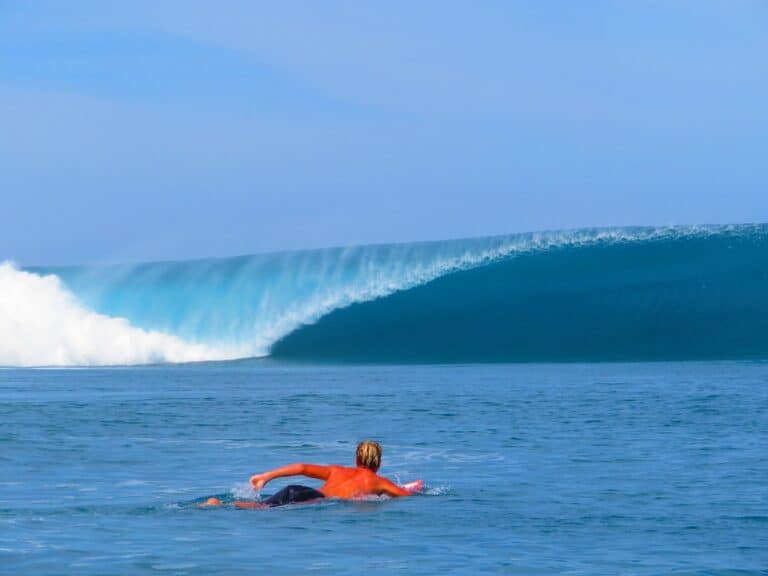 Surf Spots in the North Coast
Papeno'o:
This spot offers 2 breaks, both are great. The first one is a river mouth, which performs best during low tide. Since the break here is fast and often hollow, it is best for advanced surfers. The second one is the beach break, which works better during high tide. This break is softer, and therefore, great for beginners.
Temae Beach:
You will find this beach on the neighbor Island, Mo'orea, just next to the airport. In order to reach this spot you will need to take a boat ride or a long paddle. This right hander requires some swell in order to work, but once it does, the barrels here are wonderful.
If you are new to surfing, and you are looking for beginner waves, check out our post about the best beginner surf beaches in Tahiti.
Surf Hotels in Tahiti
When coming to surf in Tahiti, you want to make sure you stay in the right place, which means, as close as possible to the best breaks. These are some of the most recommended surf hotels in the island:
Vanira Lodge– Located in the renowned surfing haven of Teahupoo, with amazing views over the lagoon, Vanira Lodge offers a range of unique bungalows made of natural materials and built by local craftsmen. The property also boasts an on-site restaurant.
PK 35– Located in Apomaoro, 21 km from Museum of Tahiti and 34 km from Paofai Gardens, PK 35 provides accommodation with free WiFi, air conditioning, a restaurant and a garden. Featuring free private parking, the holiday home is in an area where guests can engage in activities such as hiking, fishing and canoeing.
Pointe Venus Lodge– Set in Mahina, just 300 m from Point Venus, Pointe Venus Lodge offers beachfront accommodation with free bikes, a garden, barbecue facilities and free WiFi. Boasting free private parking, the bed and breakfast is in an area where guests can engage in activities such as snorkeling and canoeing.
For more accommodation options check out our post about the best surf resorts in Tahiti, or simply look for deals on Booking.com.
If you want to stay in a surf camp visit our post about the best surf camps in Tahiti.
To sum up, surfing in Tahiti is an amazing experience for so many reasons. If you are a good surfer you will get some crazy barrels on the South shore, and beginners can find their waves too. The beauty of the Island and the crystal clear water will make you not want to leave. Tahiti is a true paradise, especially for surfers.
Finally, if you want to explore other surf destinations nearby in the South Pacific, check out Fiji, another barrel's machine
Thank you for visiting our surfing blog. If you like Reef Break, check out our online store, we have some cool T-shirt designs.
Have an awesome day!