If you are planning to surf in Fiji, this article will provide you with all the information you need. From general travel info, to surf seasons, surf spots, and everything else you need to know about surfing Fiji.
About Surfing in Fiji
If you want to surf in Fiji you better be at the top of your game. This is the place where massive barrels break over a shallow reef and challenge even the best surfers out there. Sure, you can find some spots for beginners, and even few beach breaks, but those are the exception. In reality, surfing Fiji is a task for advanced surfers. It can be a surf paradise if you know what you are doing, but it will eat you alive if you don't.
Fiji is located in the South Pacific, east from Australia and north from New Zealand. In fact, it is an Archipelago with over 300 small Islands spread in the ocean one next to another. The 2 major Fijian Islands are Viti Levu and Vanua Levu, and that's where you will find most of the population, especially in the capital Suva. The water between these Islands is full with reef shelfs, blue lagoons, and amazingly reach marine life.
Due to the layout of the Islands, most of the surf breaks in Fiji are located offshore. Therefore, for each one of your surf session here you will need to get a boat ride, which is not really a problem, as these boats are easy to find. With huge variety of surf spots, perfect barrels, and long rides, surfing in Fiji is definitely a dream for any surfer.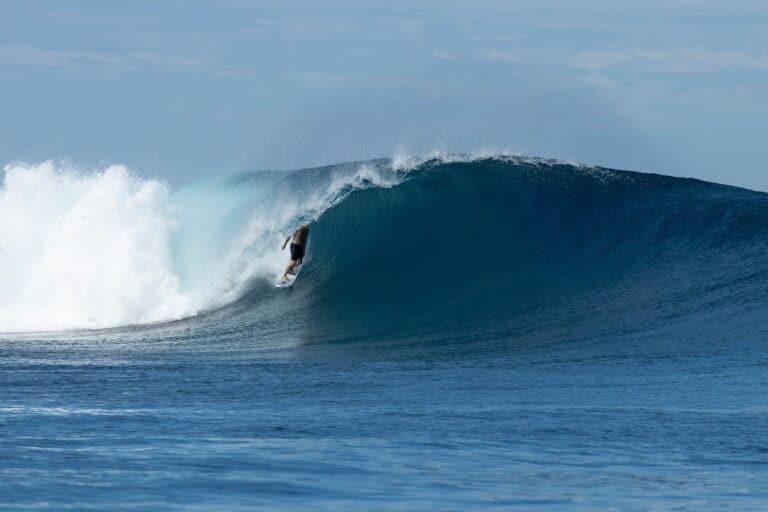 Surf Seasons in Fiji
In general, you can surf Fiji year round, and always score some good waves. Since its Islands face different directions, some beaches will always pick up any random swell. However, the best time to surf in Fiji is the Southern Hemisphere winter, between Aprils to October.
During these months the swell is extremely consistent and offers great size, about 6-10 feet as an average. Moreover, this is also the dry season, with offshore wind almost every morning.
As for the weather, it is always warm here, and the water as well. Therefore, when surfing in Fiji, there is no need for any wetsuit. 
Travel Information
Language- Fijian, English, and Hindi.
Population- about 900,000 people.
Currency- Fijian dollar.
Calling code- +679.
Time zone- GMT +12.
Pros- perfect waves, warm water, low crowds.
Cons- the waves can be too aggressive. 
Surf Spots in Fiji
When surfing in Fiji you will have a huge selection of breaks to choose from. Due to the shape of the coral reefs around the Islands, the swells break here with massive power. Therefore, most of the waves you ride will be steep and fast. In detail, those are the main surf spots in Fiji:
Cloudbreak:
About 10 minute's boat ride from Namotu Island, this wave is world famous for its high quality. It is a pure left hand barrel breaking over a sharp coral reef. Cloudbreak produces epic surf whether the swell is 2 feet or 20 feet. This spot can handle any tide and any swell direction, and it is one of the most consistent ones in Fiji.
Namotu Left:
Right in front of Namotu Island, this left hander is another world class wave. Unlike Cloudbreak, it is not so aggressive, and it can be suitable for intermediates as well. On a good day, this break produces extremely long rides, and therefore, goofy footers love this wave.
Desperations:
The beauty of this spot is that it produces great waves when all the other spots are flat. Therefore, you can count on it for the small days. It is an A-frame break, which opens up equally to both right and left, and it is suitable for all skill levels.
Swimming Pools:
Next to Namotu Island, this spot got its name due to its blue crystal water's color. In fact, it is famous for being glassy and clean almost 365 days a year, and that is why surfers love it so much. Here in the lineup you will see lots of longboards, sups, and beginners. With a dipper reef than the usual, this right hand wave offers great fun for any skill level.
Wilkes Passage:
This powerful wave breaks to the right side. In spite of its power, it is considered an easy wave to handle, and it produces some very long rides. When it is under 6 feet, any surfer can ride it, but above, it is recommended for advanced surfers only.
Tavaura Rights:
This right hander has a reputation of being a "user friendly" wave. Therefore, you will find here lots of longboards and beginners playing around these fun waves. However, don't mistake, when a big swell hit, the waves here are heavy and powerful.
Restaurants:
Located in front of Tavaura Island, this spot is one of the most popular ones in Fiji. Due to its perfect shape and relatively soft left break, some surfers call it "the skate park". Amazingly, on a good day, you can find yourself here inside 1 barrel for over 10 seconds.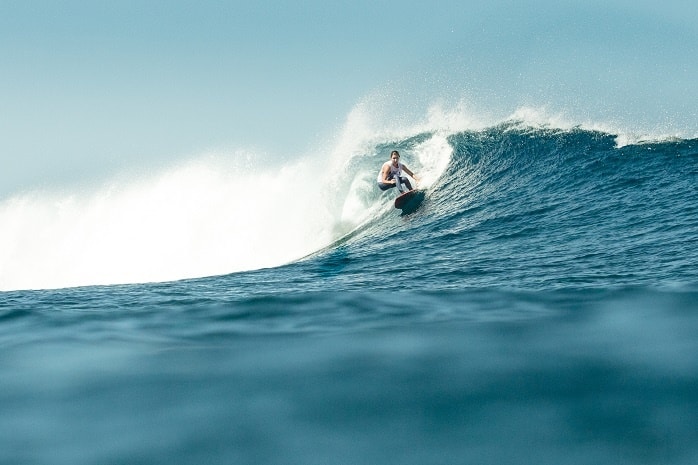 Natadola:
You will find this spot on the West Coast of Viti Levu Island. It is a mellow beach break with soft waves, and therefore, very popular among novice surfers. Actually, it is a great spot to take some surf lessons in a relaxed and friendly environment.
Vunaniu Pass:
Situated at the South part of the main Island, Vunaniu offers 2 great breaks. Shifties, on the outer reef, is a swell magnet, and offers long rides over a deep rocky bottom. Jay's, in the other hand, breaks on the inside, and even though it is smaller, it is fast, hollow, and very close to the reef.
Fiji Pipe:
Not so far away from Vunaniu, Fiji Pipe got its name for a good reason. It is a heavy barrel with massive power and beautiful shape. If you know how to drop straight into a barrel you will love to surf this one.
Frigates:
This left hander is one of the most challenging waves in Fiji, second only to Cloudbreak. It is a fast hollow break with great power, suitable for advanced surfers only.
King Kong:
This break is located in front of Kadavu Island, at the very South part of the Archipelago. Due to its remoteness, most people who come to surf Fiji will not make it this far. However, this is where you can score some perfect waves with no crowds. In fact, you can choose here between 2 different breaks, King Kong Left and King Kong right, both are epic.
If you are new to surfing, and you are looking for beginner waves, check out our post about the best beginner surf beaches in Fiji.
Surf Hotels in Fiji
When coming to surf in Fiji, you want to make sure you stay in the right place, which means, as close as possible to the best surf spots. These are some of the most recommended surf hotels in Fiji:
Likuri Island Resort Fiji– This secluded beach resort offers spectacular cultural entertainment. Guests enjoy a swimming pool, massage services and a poolside bar. This tropical island retreat offers a unique cultural experience, featuring nightly kava ceremonies, and a spectacular Island dance show featuring a world-renown fire and knife dinner show, free for guests (valued at over $200 FJD per person). Outdoor dancing under the stars to your favorite music. Wi-Fi access is available in the reception area.
Yadua Bay Resort & Villas– Yadua Bay Resort & Villas features air-conditioned accommodation on Fiji's Coral Coast. Offering a restaurant, the property also has a garden and a bar. The accommodation offers a 24-hour front desk and room service for guests. All guest rooms at the hotel come with a seating area. At Yadua Bay Resort & Villas the rooms are equipped with a desk, a flat-screen TV and a private bathroom.
Fiji Marriott Resort Momi Bay– Fiji Marriott Resort Momi Bay is an international luxury hotel located in Momi Bay, Fiji. The resort offers unrivaled lagoon and ocean views guest rooms including exclusive overwater Bure Villas, in a serene setting, providing you with an elegant, island-inspired experience.
For more surf hotels in the Fiji check out our post about the best surf resorts in Fiji, or simply look for deals on Booking.com.
If you want to stay in a surf camp, visit our post about the best surf camps in Fiji.
To sum up, Fiji is where you can find those perfect waves you dreamed about. This is where you ride long walls and get some shade under epic barrels. With crystal water and welcoming locals, this is all you want in a surf trip. Therefore, surfing in Fiji should definitely be on your check list.
Finally, if you want to explore some other destinations in the South Pacific, check out the waves in Tahiti, another surf paradise.
Thank you for visiting our surfing blog. If you like Reef Break, check out our online store, we have some cool T-shirt designs.
Have an awesome day!