If you are planning to surf Puerto Rico, this article will provide you with all the information you need. From general travel info, to surf seasons, surf spots, and everything else you need to know about surfing in Puerto Rico.
About Surfing in Puerto Rico
If riding perfect waves in a tropical paradise, just a short flight from the US, sounds appealing to you, then you need to surf Puerto Rico. Actually, it can be your best option to escape the American winter for a week or two. With powerful waves and variety of surf spots, Puerto Rico got its nickname "Hawaii of the Atlantic", and it probably produces the best surf in the Caribbean.
Puerto Rico is a US Nation located on a Caribbean Island, just next to Dominican Republic. It is famous for its beautiful landscape, mountains, rainforests, and waterfalls. Moreover, it is a very popular holiday destination, with great beaches, kicking nightlife, restaurants, and casinos.
As for the surf in Puerto Rico, it is absolutely spectacular. Since its coastline is exposed to the North Atlantic swells, the waves here are very consistent. Moreover, it offers breaks of all kinds, from reef breaks, to points, and beach breaks.
In general, you need to be a good surfer in order to surf Puerto Rico, as the waves here are challenging. However, if you are a beginner or intermediate, don't worry, there are some perfect beaches for you too.
The only downside of surfing in Puerto Rico is the crowds. Since it is so epic and so popular, everybody wants a piece of it. Therefore, you have to either deal with the competition in the lineup, or just go to the less crowded spots. Luckily, there are plenty of those too, and there are more than enough waves for everyone to have fun.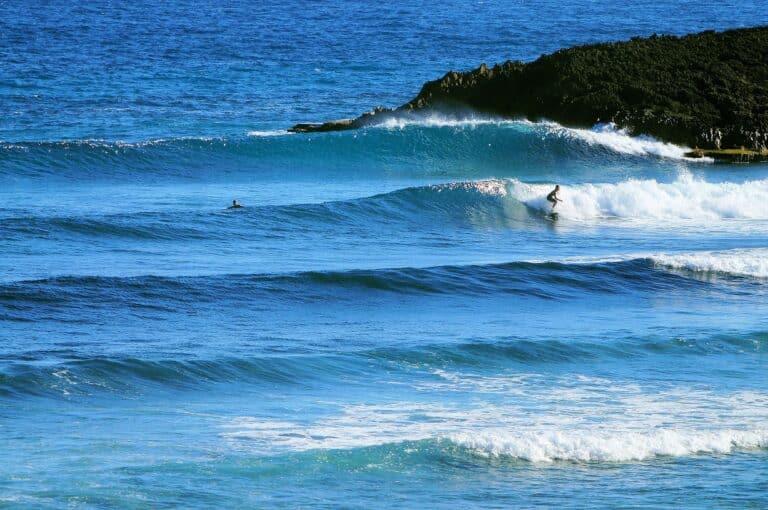 Surf Seasons in Puerto Rico
In General, the winter is the best time to surf Puerto Rico. However, that is also depends on your skill level, and what exactly are you looking for. To clarify, take a look at this breakdown:
During wintertime, between Novembers to February, the North Atlantic swells hit the Puerto Rican Coast with massive power. Therefore, you can expect some big waves and great consistency every single day. If you are an advanced surfer, this is definitely the time you want to surf in Puerto Rico. Moreover, this is also the dry season, which makes it even nicer.
The spring (March and April) and the fall (September and October) are known as "shoulder season". During these months the waves range from 2 to 4 feet, and this is the perfect time for beginners and intermediate surfers. Moreover, during "shoulder season" the crowd in the lineup is significantly lower.
Finally, the summer months, from May to August, are pretty small and inconsistent. Even though this Hurricane season can bring some good occasional swells, it is not something you can count on for a surf trip.
As for the weather, it is always warm, and the water as well. Therefore, when surfing in Puerto Rico, there is no need for a wetsuit. 
Travel Information
Language- Spanish.
Population- over 3 Million.
Currency- U.S dollar.
Calling code- +1.
Time zone- GMT -4.
Pros- great variety of breaks, warm water.
Cons- extremely crowded. 
Surf Spots in Puerto Rico
Even though the South Coast faces the Caribbean Sea and receives some occasional swells, the Northern Coast is where the real surf is. Therefore, when surfing in Puerto Rico, this is where you want to be focusing at. In detail, these are the main surf spots in Puerto Rico: 
Rincon:
Rincon is the most popular surf town in Puerto Rico. It is located at the North West part of the country and offers variety of breaks, surf shops, restaurants and great nightlife. If powerful reef breaks is what you are after, you will find them at Antonio's, Pool's, and Domes. Other great spots are Sandy Beach and Maria's. Moreover, if you are looking for some really huge waves, the best place to find them is at Tres Palmas.
Read more in our post about surfing in Rincon..
Aguadilla:
The long beach strep next to Aguadilla is one of the most beautiful ones, and it also offers a huge selection of surf breaks. In fact, this area was recently announced as a world surfing reserve, the first one ever in the Caribbean. Most of the breaks here are softer than the ones in Rincon, and therefore, suitable for all skill levels. The most popular ones are Bridges, Crash Boat, Wilderness, Surfer Beach, Punta Borinquen, and Gas Chambers.
Isabela:
This beach strep on the North West Coast also have some of the best waves in the country. Middles Beach hosts the Annual Corona Pro Surf Competition with a punchy break, and it also offers a beginner's wave down the beach. At Jobos Beach you can find some great breaks too, and even take some surf lessons.
La Marginal:
Just on the high way, next to the town of Arecibo, you will find this great spot. This beach produces consistent surf and picks up any swell. When the wind blows offshore you can get here some wonderful barrels.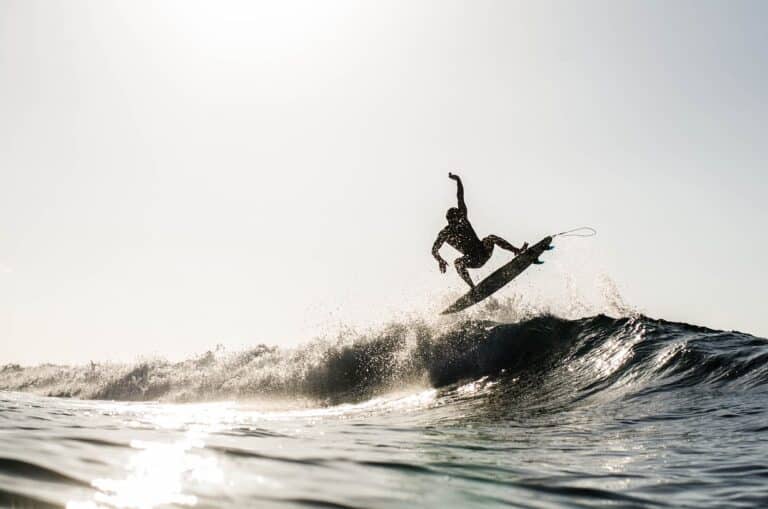 Kikita:
Most of the foreigners who surf in Puerto Rico never come to this spot. Actually, it is kind of an underground beach, and mostly locals surf here. However, if you make the effort to get here, you will get some very powerful waves with no crowds.
San Juan:
The Puerto Rican Capital has some surf Scene of its own. Sure, like in every big city, the beaches are crowded and not as nice as in other spots, but still, good waves are found here too. La Ocho is a one of the breaks, especially for advanced surfers. In order to get there you will need to paddle from Escambron Beach. Playa Aviones is another popular spot. In fact, it is one of the most consistent ones in the country, and it is the local's favorite.
Luquillo:
This town on the North East Coast offers some nice beach break. At La Pared (The Wall) you can find some great waves for beginners and practice over a sandy bottom.
Los Tubos:
"The Tubes" in English, in the town of Manati, is a beach for advanced surfers only. It hosts several local surf competitions, and it is most popular among Body boarders.
Bocas del Cibuco:
You will find this spot in a beautiful bay in front of a National Reserve in the middle of the North Coast. The waves here break far in the deep water, and offer some very long rides.
If you are new to surfing, and you are looking for beginner waves, check out our post about the best beginner surf beaches in Puerto Rico.
Surf Hotels in Puerto Rico
When coming to surf in Puerto Rico, you want to make sure you stay in the right place, which means, as close as possible to the best waves. These are some of the most recommended surf hotels in the island:
Casa Isleña, Rincon– Located on the beach front with views of the Caribbean Sea, Casa Isleña features an outdoor swimming pool and a terrace. It offers free Wi-Fi and free private parking on site.
Casa Canal, the Ultimate Casa– Located in Rincon, just 1.2 km from Doña Lala Beach, Casa Canal, the Ultimate Casa provides beachfront accommodation with an outdoor swimming pool, a bar, a garden and free WiFi. Featuring free private parking, the villa is in an area where guests can engage in activities such as hiking, snorkeling and windsurfing.
Aguada of the Seas, Aguadilla– Set 47 km from Rio Camuy Cave Park, Aguada of the Seas offers a restaurant, a bar and air-conditioned accommodation with a balcony and free WiFi.
For more surf hotels in Puerto Rico check out our post about the best surf resorts in Puerto Rico, or simply look for deals on Booking.com.
If you want to stay in a surf camp visit our post about the best surf camps in Puerto Rico.
To sum up, Puerto Rico is an extremely popular surf destination, and for a good reason. Who doesn't want to surf perfect wave on a Caribbean Island with warm blue water? With such high quality waves and great atmosphere, surfing in Puerto Rico is a recopy for having a good time
Thank you for visiting our surfing blog. If you like Reef Break, check out our online store, we have some cool T-shirt designs.
Have an awesome day!