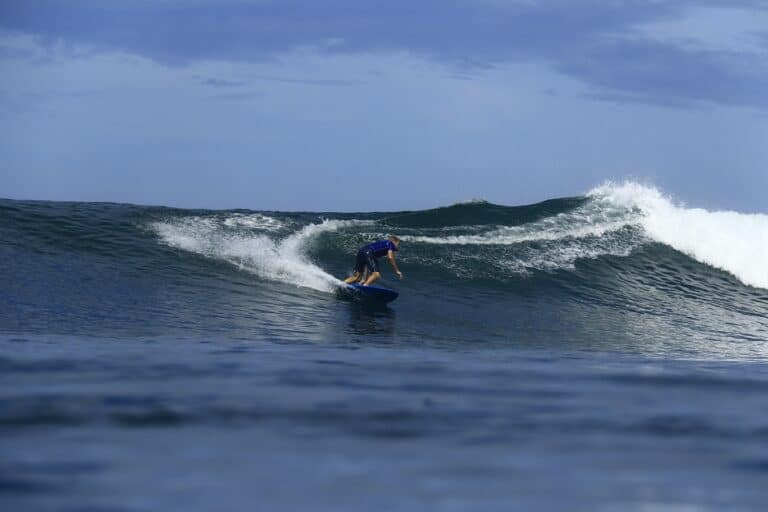 About Surfing in El Tunco
Surfing El Tunco Beach is the safest bet you can make on your surf trip to El Salvador. Located only 45 minutes' drive from the country's International Airport, this beach offers everything a surfer could wish for. With world class waves and great atmosphere, no wonder this town became the most popular surf destination in El Salvador, by both locals and foreigners.
El Tunco is a friendly little surf town in South El Salvador. Due to its location close to San Salvador and La Libertad, the access to this town is pretty easy. Unlike most of the country, security issues are not a problem here, and it is considered a very safe and relaxed place. Therefore, when you come to surf El Tunco, you will see a pretty developed travel scene. There is a big variety of hotels for any budget, great restaurants, bars, and even a surf shop. Moreover, during the weekends, El Tunco turns into a crazy party town, and you can always find a place with good music, drinks, and great people.
As for the surf, El Tunco is a spectacular beach. Within a short walking distance you can find several surf spots and choose the right one for you. The waves here are suitable for any skill level. Therefore, while beginners can practice on soft waves over a sandy bottom, the advanced ones can ride punchy barrels and long walls. If you are looking for a good place for a surf trip, El Tunco can be the perfect one for you.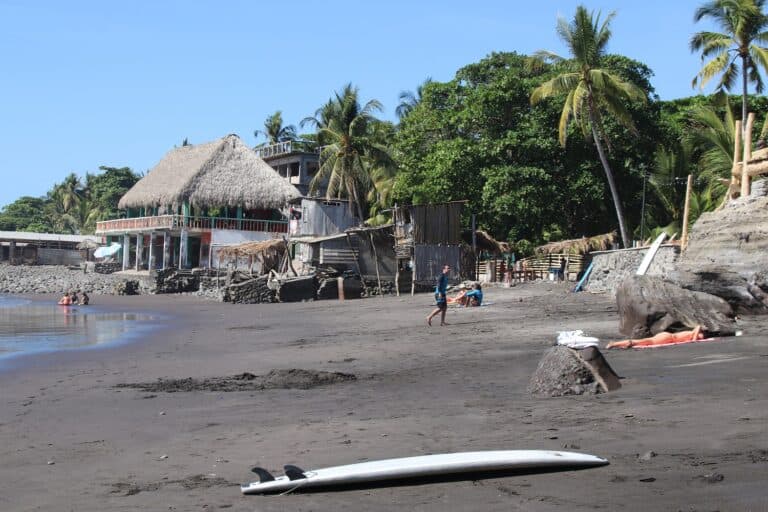 Surf Seasons in El Tunco
Just like in all the El Salvadorian Coastline, you can surf El Tunco any day of the year. The swell here is extremely consistent and it is very rare to have a flat day.
If you are a beginner, you might prefer to come during the dry season, from Novembers to April. This is when the waves are normally chest to shoulder height, and conditions are very easy and friendly.
The wet season, from May to October, is the best time for those who are seeking the big waves. During these months the conditions are not as perfect, but you can ride some 6-10 foot waves. Therefore, this time of the year is recommended only for advanced surfers.
If you come during the transition months, you will enjoy both worlds. Therefore, Marchs to May it is the best time to surf El Tunco. The weather is nice, the waves are perfect, and conditions are just right.
Surf Spots around El Tunco
When surfing in El Tunco you will have several different breaks to choose from. In detail, these are the 4 main spots on this beach:
El Sunzal:
Located on the Western part of the beach, El Sunzal is a world class wave. In fact, this right hand point break is one of the most consistent ones in the whole country. Moreover, this wave is extremely long and open, and suitable for all skill levels. In order to get to the line up here you will have to paddle far out, as the waves break far in the deep water. However, the way back is long as well, so it is totally worth it. Since the wave is soft and mellow, it is perfect for longboards and beginners. During weekends this spot can get a bit crowded, but it's not too bad compare to other places in Central America.
Sunzalito:
This spot is El Sunzal's little sister. Closer to shore, over a sandy bottom, the waves here are much smaller and break softly. Therefore, this spot is perfect for beginners, or to days when the swell is just too big.
La Bocana:
You will find this spot in the Eastern part of the beach. La Bocana is one of the very few left handers in El Salvador, and that is why goofy footers love it so much. This river mouth break is fast, strong, and challenging. Compare to the mellow break at El Sunzal, the wave here is more aggressive and requires a higher skill level.
La Bocanita:
This spot is the local's favorite. Unlike La Bocana, the waves here break only during high tide, and produces great tube rides. The wave here is fast and hollow, and therefore, not recommended for beginners.
Surf Hotels in El Tunco
When coming to surf in El Tunco you want to make sure you stay in the right place, which means, as close as possible to the waves. These are some of the most recommended surf hotels in town:
Casa de Mar Hotel And Villas– Offering an outdoor pool and views of the sea, the beachfront Casa de Mar Hotel And Villas is situated in El Sunzal in the La Libertad Department Region, 1 km from El Salvadoreño Country Club.
Hotel & Bar La Guitarra– Boasting an outdoor swimming pool, Hotel & Bar La Guitarra is situated in El Tunco Beach. Featuring a 24-hour front desk, this property also provides guests with a restaurant. Each room is equipped with a terrace with a sea view.
Santorini Lodge– Situated few steps from Playa El Tunco, Santorini Lodge features accommodation with a restaurant, free private parking, a bar and a shared lounge. Among the facilities at this property are a shared kitchen and room service, along with free WiFi throughout the property. The hotel has family rooms.
For more surf hotels in El Tunco check out the best deals on Booking.com.
To sum up, El Tunco is one of the best surf towns in El Salvador. The combination of world class waves, great nightlife and young travelers from all over the world, makes it a perfect destination for a surf trip.
Other than surfing in El Tunco, you can also take a short drive and surf the other great surf spots in the area, such as El Zonte and Punta Roca.
Thank you for visiting our surfing blog. If you like Reef Break, check out our online store, we have some cool T-shirt designs.
Have an awesome day!