If you are looking for the best surf spots in El Salvador you came to the right place. In this guide you will find all the information you need for your next surf trip to El Salvador. From general travel info, to surf seasons, surf spots, and everything else you need to know about surfing in El Salvador.
About Surfing in El Salvador
Surfing El Salvador will surprise you much more than you think it will. It is not popular and famous like other countries, but it is actually one of the best surf destinations in the world. In fact, El Salvador is the country of right hand point breaks, and a true surf paradise.
Located in Central America, between Guatemala and Honduras, El Salvador is a small country facing the Pacific Ocean. This country is just recovering from a nasty civil war, and yet, it has a lot to offer to travelers, and surfers in particular. Once you land here, in the Capital San Salvador, take a short drive south to La Libertad, don't waste your time in the city. Then, once you made it to the coast, you will feel the change in the air. El Salvador's surf scene offers about 300 KM of coastline with warm water, great nature, and amazing waves. Moreover, within only 1 hours' drive from La Libertad you will find countless world class breaks, and almost all of them are right hand point breaks.
The Prices in El Salvador are extremely low. Actually, with a backpacker budget you can live here like a king. For that reason, you will find here many young surfers who come to surf El Salvador and enjoy the perfect waves and authentic atmosphere. 
Travel Information
Language- Spanish.
Population- about 6.5 million.
Currency- U.S. Dollar.
Calling code- +503.
Time zone- GMT -6.
Pros- long waves, warm water, cheap travel.
Cons- lack of left hand waves, not so safe.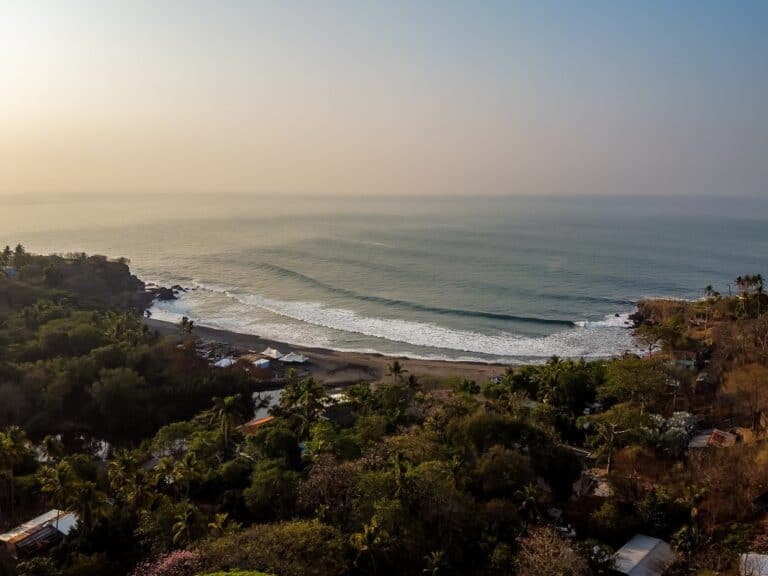 Surf Seasons in El Salvador
In general, you can surf El Salvador all year long, and you will always find good waved. However, some months are more recommended than others, due to heavy rains and swell consistency.
El Salvador's coastline is facing south, so it is well exposed to south swells. Therefore, between May to October you can expect some very big and consistent waves (sometimes over 10 feet). Unfortunately, this time of the year is also the wet season, which means lots of rains on a daily basis.
In the dry season, between Novembers to April, the sky is clear and the sun always shines. However, the swell will be a bit less consistent and with less size. Don't get it wrong, you will still get great waves during these months, but don't expect something huge (most season it is around 3-5 feet).
Considering the above, the perfect months to surf El Salvador is between Marchs to May. Since it is still the dry season, and yet, the south swell starts to to send waves to shore, the surf conditions will be at its absolute best.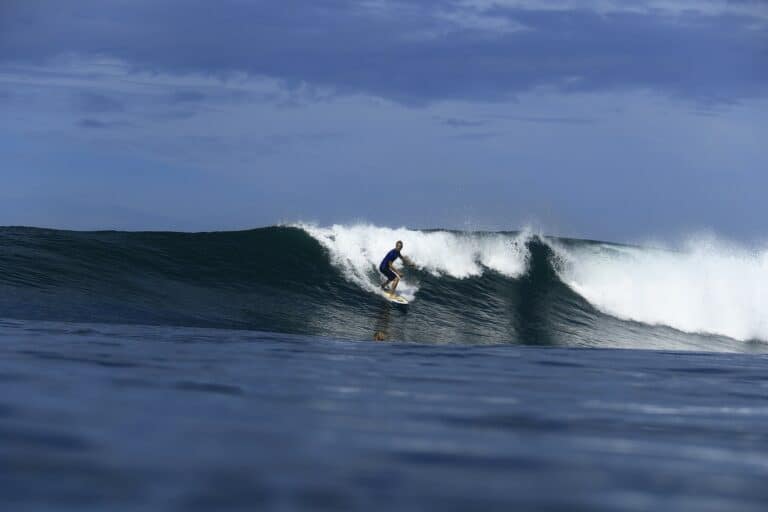 Surf Spots in El Salvador
When surfing El Salvador you will be able to choose between several world class waves. Luckily, they all within a short driving distance from each other.. Those are the main ones:
Surf Spots in La Libertad Area
Punta Roca:
This is the most famous surf spot in El Salvador. In fact, some say it is one of the best right hand point breaks in the world. Situated in the city of La Libertad, this place hosted the women's 6 WQS surfing event, and it is well respected among surfers all around the world. In detail, the wave here starts with a steep drop straight into a barrel, and continues with a long open ride. The bottom is full of boulders, so either bring your booties, or just watch out on your feet, especially during low tide. Since this spot is in a big City, and also close to the Capital San Salvador, you will always find local crowds in the water.
Conchalio:
A bit further from Punta Roca you will find this powerful beach break. Unlike its neighbor break, this spot is almost always empty of crowds, and produces some nice tube rides to both right and left. Since this spot picks up lots of swell, it is best on the small days, when the other spots are almost flat.
El Cocal (San Blas):
Since it is not very exposed to the swell, you should surf this beach only when a big swell hits the shore. Once it happens, you will find here an amazing point break with 3 different sections, and no one else in the water.
Surf Spots in El Tunco Area
La Bocana:
This is one of the only left hand breaks in the country. For that reason, goofy footers love this spot. In fact, it is a river mouth break which produces a powerful A- frame waves. These waves tend to barrel pretty often and suitable for advanced surfers only.
La Bocanita:
This is a pure tube ride, from the kind that will punish you hard unless you know what you are doing. Weirdly, this wave performs better during the afternoons, and always on high tide. Also, note that the currents here are very strong, so prepare yourself for some hard paddling.
El Sunzal:
This is probably the most consistent spot in the country. Somehow, it performs well on any given day, no matter what. Suitable for all skill levels, Sunzal peaks up the swell far in the deep water and break softly all the way to shore. Therefore, it is perfect for long boards, beginners, or anyone who likes long mellow rides to the right side. 
This right hand point break (yes, another one…) is pumping very close to shore. Therefore, you won't have to paddle that much to the lineup. This wave is long, hollow, and yet, suitable for all skill levels. Moreover, the town itself is a great artistic place to meet great people and surfers from different places. El Zonte is a definitely a must stop during your surf trip to El Salvador.
K59:
Further to the west you will find this world class wave. This right point break is famous for its long rides and barreling sections. Although it is not aggressive, the ride here is very fast, so make sure you are at the top of your game, otherwise you will not make the sections.
K61:
About 10 minute's paddle (or walk) from K59 you will get to this right point break. It is softer, smaller, and slower than the other spots. Moreover, it is almost always empty of surfers. Definitely worthwhile, especially for longboards and beginners.
Mizata:
Since it is more distant from San Salvador, not many surfers come to this spot, and that's a shame (or maybe not), as this is one of the most consistent beaches in the area. Amazingly, you will find here a point, a river mouth, and a beach break within a short distance from each other. Therefore, if you come here, you will get a great variety of breaks to choose from, and no crowds.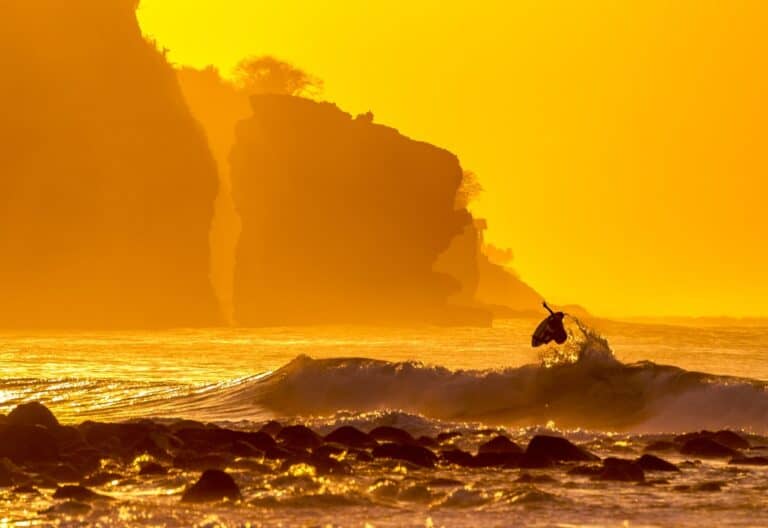 Surf Spots in El Cuco/Las Flores Area
Las Flores:
This is a famous tourist destination in El Salvador. The hotels here are always full and the surf is up. It is a top quality right hand point break, with some barreling sections as well. However, due to its good reputation, it can get extremely crowded.
Punta Mango:
This is probably the second best wave in the country after Punta Roca. However, it produces the best barrels for sure. In order to get to this spot you will need to take a boat ride from Las Flores, or simply make a 40 minute drive. There is also an option to stay right in front of the break in Hotel Los Mangos. Once you are here you will witness some massive barrels to the right side. Experienced surfers only!
If you are new to surfing, and you are looking for beginner waves, check out our post about beginner surf beaches in El Salvador. 
Surf Hotels in El Salvador
When coming to surf in El Salvador, you want to make sure you stay in the right place, which means, as close as possible to the waves. These are some of the most recommended surf hotels in the country:
Casa de Mar Hotel And Villas, El Tunco– Offering an outdoor pool and views of the sea, the beachfront Casa de Mar Hotel And Villas is situated in El Sunzal in the La Libertad Department Region, 1 km from El Salvadoreño Country Club.
The Beach Break Hotel, El Zonte– Situated in El Zonte, a few steps from El Zonte Beach, The Beach Break Hotel features accommodation with a restaurant, free private parking, a bar and a shared lounge. Featuring a garden, the property is located within 2.8 km of El Palmarcito Beach. Guests can have a drink at the snack bar.
Hotel Los Mangos El Salvador, Punta Mango– Offering an outdoor pool and a restaurant, Hotel Los Mangos El Salvador is located 10 km west of El Cuco. The property is set in a privileged place to practice surf.
For more surf hotels in El Salvador check out our post about the best surf resorts in El Salvador, or simply look for good deals on Booking.com.
Surf Camps in El Salvador
If you are a beginner, or new to surfing, the best way to explore El Salvador's surf scene is on a surf camp. These are the most recommended ones in the country:
www.lasfloresresort.com – in Las Flores.
www.elsalvadorsurfcamps.com – in El Tunco.
For more details check out our post about the best surf camps in El Salvador.
To sum up, surfing in El Salvador is something every surfer must do at least once in his lifetime. With such world class point breaks you will have the time of your life. You can also combine your surf trip with other nearby surf destinations in Central America, such as Nicaragua or Mexico.
Thank you for visiting our surfing blog. If you like Reef Break, check out our online store, we have some cool T-shirt designs.
Have an awesome day!