Last updated on October 26th, 2023 at 11:13 am
If you are looking for the best surf spots in Peru, you came to the right place. In this guide you will find all the information you need for your next surf trip to Peru. From general travel info, to surf seasons, surf spots, and everything else you need to know about surfing in Peru.
About Surfing in Peru
Surfing in Peru for the first time will probably make you wonder what took you so long to discover this place. Amazingly, this is the story of Peru as a surf destination. In spite of offering the best surfing in South America, it always stayed under surfer's radar. From some reason, surfers travel worldwide during their search for perfect waves, and miss out this spectacular country. In one hand, Peru's surf scene has developed drastically in the last decade, but in the other, it is still one of the most underrated surf destinations in the world.
"The land of left hand point breaks", they call it, or in different words, a goofy footer's paradise. With 1,500 miles (about 2500 KM) of coastline facing the Pacific Ocean, Peru offers countless world class breaks, and known for its long left rides. In fact, it is a home for the longest wave in the world, Chicama.
Since it has such epic surf conditions, over the years Peru produces some of the best surfers in the world, and members of the surfing hall of fame. Back in 2004, the Peruvian surfer Sofia Mulanovich won the world title, and was the first South American that ever did it. Another Peruvian surfer, Cristobal Del Col, broke a record of his own, when performed 34 turns on one waves in Chicama.
Surfing in Peru is something every surfer owe himself, especially goofy footers. It is such an authentic country with amazing culture, great food, and incredible waves. Whether you are a beginner or an expert, Peru has a huge variety of surf spots of all kinds. Go and explore it while it is still undiscovered, it will probably not stay that way for long.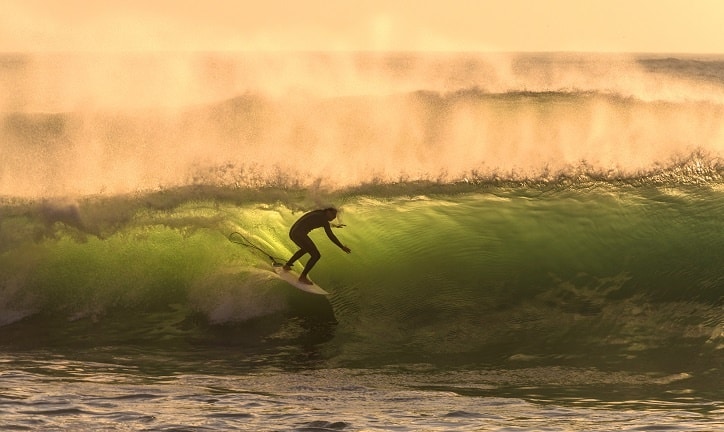 Surf Seasons in Peru
In general, you can surf Peru 365 days a year and always score some good waves. However, it is important to know the seasonal guidelines, in order to wisely choose the right spot according to the time of year. To better understand, let's divide Peru into 2 different surf areas, North and South.
In North Peru the best surf season is the Peruvian summer, between Novembers to April. During these months the north swells hit the shore and produce great waves combined with offshore winds. Also, the water in this area are significantly warmer than in the South, and ranges from 18°C to 26°C (about 65-80°F). Therefore, a short 3/2 MM wetsuit will usually be enough, unless you are over sensitive.
In South Peru the best surf season is the winter, between May to October. During these months the south swell brings the best waves to the south facing beaches. Unfortunately, the water here is much cooler and ranges from 14°C to 20°C (about 57-68°F). Therefore, long sleeves wetsuit is mandatory here 365 a year.
One more thing to consider when surfing in Peru is the local holidays. In order to avoid the massive local crowds you better avoid getting there during New Year, Semana Santa (Easter), and Fiestas Patrias (July 28-29).
Travel Information
Language- Spanish.
Population- about 32 million.
Currency- Sol.
Calling code- +51.
Time zone- GMT -5.
Pros- long perfect waves.
Cons- cold water.
Surf Spots in Peru
When surfing in Peru you can choose between many different surf spots. As you go from North to South, the water will be colder, and as closer you are to the capital Lima, it will be more polluted as well. In detail, those are the best surf spots in Peru.
Surf Spots in North Peru:
Mancora:
Mancora is the local touristic destination of North Peru. It is situated up North, very close to the border with Ecuador. Due to its location, the sun always shines here, and the water is the warmest you can get in whole Peru. The main surf spot in Mancora is a left hand point break, which opens up in a very slow and gentle way. Since the wave is so soft it is suitable for all skill levels, including beginners. However, it breaks over a shallow reef, and that is why it is better to surf it only during high tide. A bit south on the beach you can find another spot, Punta Ballenas. Unlike the main break, this one is extremely fast and hollow, so only advanced surfers hang out here.
Los Organos:
If you drive south about 20 minutes from Mancora you will find this town. It produces a powerful reef break with some barreling sections, and on a good day can be extremely long. If the wave here is too strong for you there is a beginner spot a bit north of it, Los Organitos.
Cabo Blanco:         
This sleepy fishing village became famous for its epic waves. In fact, Cabo Blanco is called by many "The Peruvian Pipeline". It is a pure left hand tube ride over a very shallow reef, and it is suitable for experts only. Cabo Blanco requires a big north swell in order to perform well. Therefore, when such swell hits, you will see the best surfers in the country come to surf it. Paddle out only if you know what you are doing, this is not a place for beginners or intermediates.
Panic Point:
Unlike most of the spots in North Peru, this one actually performs better during south swell, between May to October. It is a left hand point break with a long tube sections, and it can hold extremely big swells. Due to its high quality it is considered one of the best waves in the country.
Lobitos:
What makes Lobitos such a great surf town is its consistency. Within a short walking distance on the beach you will find here several different spots. In fact, it doesn't matter what your skill level is and what time of the year you are visiting, Lobitos offers all type of waves. From point break to reef and beach break, here you will get them all, one next to the other. Some of the breaks here perform better during south swell, and some during north swell. Due to its diversity, Lobitos is the safest bet to score great condition when surfing in Peru.
(Read more about surfing in Lobitos).
Pacasmayo:
This left hand point break is the second longest wave in Peru. In fact, this spot picks up any swell and performs even when the other spots are flat. With up to 4 minutes' ride on a good day, and almost 2.5 KM long, this spot is definitely a world class wave.
Chicama:
In one of the driest places on earth, a cold desert, 110 KM from the town of Trujillo, you will find it, the longest wave in the world. The water here is cold, and there is nothing to do other than surfing, and yet, as a surfer, those are the kind of places you want to be at. The wave in Chicama stretches for about 4 KM (2.5 miles) long, and on a good day you can ride it for about 5 minutes. Actually, this wave consists of 4 different left hand point breaks, situated one next to the other. Each one of them breaks separately, and they all long and beautiful. However, when a big swell hits, all 4 breaks connect into 1 perfect ride, which will probably end only when your legs hurt too much to keep riding. Needless to mention, you don't paddle back at Chicama, you go back to the lineup with a ride from a local car.
(Read more about surfing in Chicama).
Huanchaco:   
This spot was announced as a world surfing reserve back in 2013. Here, in this cultural town, just next to Trujillo, is where the whole Peruvian surf scene began many years ago, and it is still a great surf destination. If you come here during your surf trip to Peru, you will enjoy a mellow left wave breaking over a sandy bottom and suit all skill levels.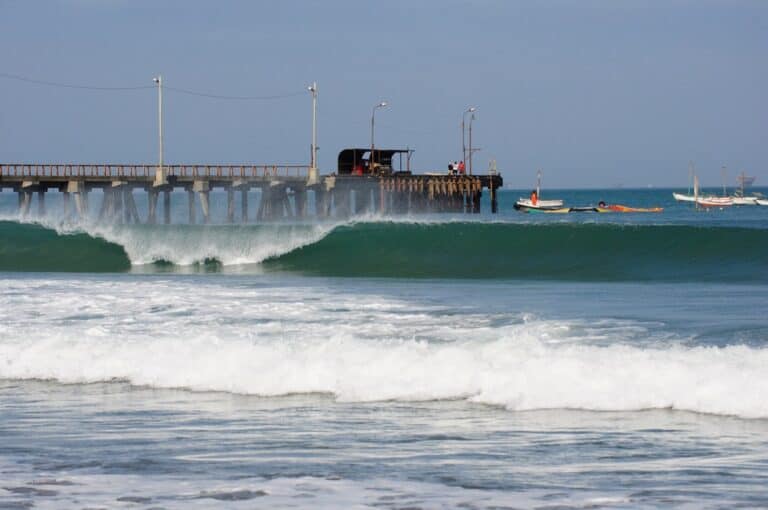 Surf Spots in Central Peru and Lima Area:
Lima:
Lima, the Peruvian Capital, is a big city with huge population, industrial pollution, and generally, total chaos. Even though you can find some good surf in Lima, the beaches are extremely crowded, and this is not the kind of vibe you are looking for on a surf trip. If you insist to surf here anyway, the best spot in town is La Herradura, which offers a fast barreling wave. For beginners, the best place to take some surf lessons is Playa Waikiki.
Punta Hermosa:
This coastal town, a bit south from Lima, hosts some nice variety of surf spots, and a much chillier vibe. Between May to October you will find here several different peaks that perform with great consistency.
Caballeros:
Surprisingly, this spot is a right hand point break, one of the very very few you will find while surfing in Peru. It is well exposed to the south swell and can hold some big size as well.
Pico Alto:
Pico Alto is a big wave spot. This is not the kind of wave you just go and paddle into. Just like Todos Santos in Mexico, or Nazare in Portugal, big waves surfing is a different game. Unless you are an experienced big wave's surfer, you have nothing to do here.
Punta Rocas:         
Another right hand point break. This spot tends to pick up any swell, and it is probably the most consistent spot in the area. Due to its year round consistency, the crowds are always here in the lineup.
San Bartolo:
Unlike many of the other spots you will find while surfing in Peru, this one is a beginner's friendly beach break, with very little crowd. Actually, the waves here tends to open up equally to both right and left sides, and it is fairly easy to ride.
Cerro Azul:
This is a fun and mellow left hand point break that suit all skill levels. In spite of being only 2 hours' drive from Lima, it is not as crowded as you would expect. Therefore, when you surf Peru, if you made it here, you will enjoy long rides at any time of the year.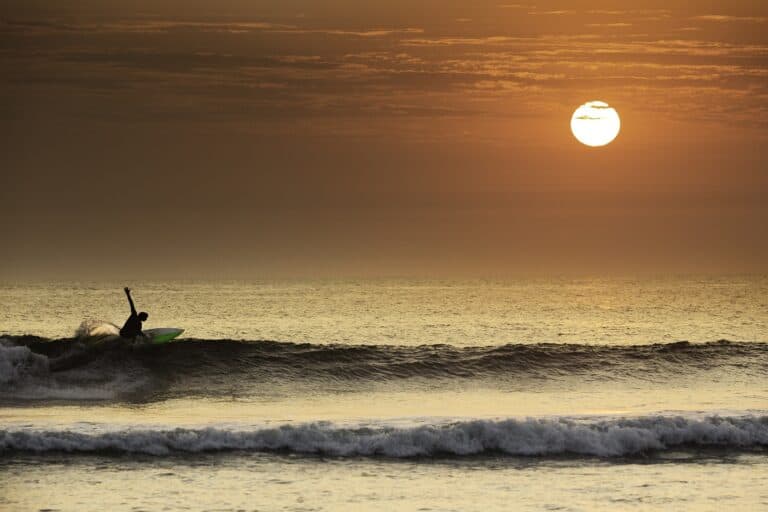 Surf Spots in South Peru:
The South Coast of the Peru is completely undiscovered. The weather here is extremely dry and the water is very cold. Moreover, this area is undeveloped and there is no real foundation to count on for a surf trip.
If you have an adventures spirit you can take a car or a van and explore this area on your own. If you do so, you will probably find perfect spots that no one hardly ever ridden before. However, if you are after more convenient travel experience, just head north, you will have more than enough surf on some unbelievable waves.
If you are new to surfing, and you are looking for beginner waves, check out our post about the best beginner surf beaches in Peru.
Surf Hotels in Peru
When coming to surf in Peru, you want to make sure you stay in the right place, which means, as close as possible to the best spots. These are some of the most recommended surf hotels in the country:
Sueños de Chicama– Located on the famous surfer's paradise of Chicama Beach, Sueños de Chicama has free Wi-Fi access and a terrace with a sea view in Trujillo. Chicama Port is a 5-minute ride away by moto-taxi.
Wayra, Lobitos– Facing the beachfront in Lobitos, Wayra features a shared lounge and barbecue facilities. Among the facilities of this property are a restaurant, a 24-hour front desk and room service, along with free WiFi throughout the property. There is free private parking and the property offers paid airport shuttle service.
La Pachamama, Mancora– Situated in Máncora, a few steps from Mancora Beach, La Pachamama features accommodation with a restaurant, free private parking, a bar and a shared lounge. Boasting a garden, the guest house is close to several noted attractions, around 700 m from Puerto Chico, 1.6 km from Máncora Chico and 1.4 km from Máncora. The accommodation provides a 24-hour front desk, room service and currency exchange for guests.
For more surf hotels in Peru check out our post about the best surf resorts in Peru, or simply look for deals on Booking.com.
Also, if you want to stay on a surf camp, visit our post about the best surf camps in Peru.
To sum up, Peru is one of the best surf destinations in the world. The fact that hardly no one speaks about it doesn't mean it is not there. If you come to surf Peru you will find yourself riding amazingly long waves and covered up with epic barrels. Together with the authenticity and unique culture of the place, you are guarantee to have an unforgettable travel experience.
Finally, if you are looking for other surf destinations in South America, check out Brazil, which is also great country for a surf trip.