Last updated on December 7th, 2023 at 07:49 am
If you are looking for the best surf spots in Morocco, you came to the right place. In this surf guide to Morocco, you will find all the information you need to plan your surf trip, including general travel information, surf seasons, and the best surf beaches in Morocco.
* Honest disclaimer- Reef Break is reader-supported. When you buy via links on our site, we may earn an affiliate commission at no cost to you.
About Surfing in Morocco
Most surfers who surf in Morocco for the first time fall in love with it immediately. This country, the "land of right-hand point breaks", is definitely one of the best surf destinations in the world. In fact, with only a short flight from most European countries, surfers from all over the world discovered the magic of Morocco, and keep coming here regularly to surf its epic waves.
Morocco, a Muslim country in West Africa, faces the Sahara desert from the East and the Atlantic Ocean from the West. Due to its geographical location, there are almost 365 sunny days a year. With about 1,800 KM of coastline, Morocco gets tons of swell and offers several world-class surf breaks. While perfect waves hit the whole Moroccan coastline, most surfers hang out in the country's major surf capital, Taghazout.
Located less than half an hour from the International Airport of Agadir, the area of Taghazout is home to a wide variety of surf spots. From soft pilling and beginner waves to massive barrels, the waves here can suit all skill levels. For that reason, surfing in Morocco has become so popular in the past decade and established the country as a perfect destination for a surf trip.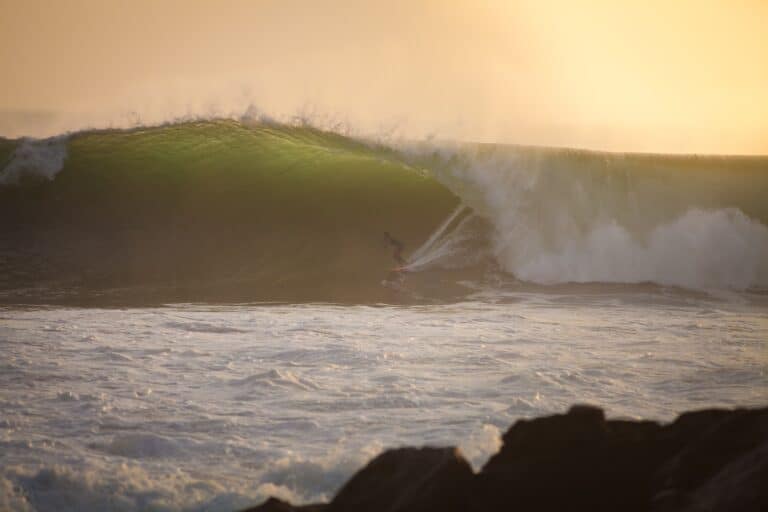 The Best Surf Spots in Morocco
When surfing in Morocco, you have a huge selection of breaks to choose from. In fact, Morocco offers all types of waves for all skill levels. Therefore, any surfer can find the right waves for himself, depending on his skill level. So, in detail, these are the best surf spots in Morocco:
Surf Spots in Morocco for Beginners:
Banana Point:
You will find this spot in front of the many banana plantation fields in the area. It is a tremendous right-hand point break with a soft, sandy bottom. The waves in this spot are long and mellow and, therefore, great for beginners and for longboards.
Devil's Rock:
Devil's Rock is not as scary as it may sound. Actually, it is a pretty soft beach break that opens up to both the right and left sides. Due to its proximity to the nearby village, it can get crowded. However, this beach has several different peaks, so you can always find a spot for yourself.
Panoramas:
Another right-hander breaking over a sandy bottom. During high tide, this wave is gentle and beginner-friendly. However, when the tide is low or when the swell is big, this beach turns into a fast barrel machine.
Crocodile's / Crocs:
This is a typical beach break. It has multiple peaks breaking over the sand and open to both sides. It is a perfect beach to practice your skills without danger.
Imsouane:
Located further north, this is a very long right-hand point break. It opens up softly and slowly along a beautiful bay. This is the favorite surf spot in Morocco for beginners and longboarders.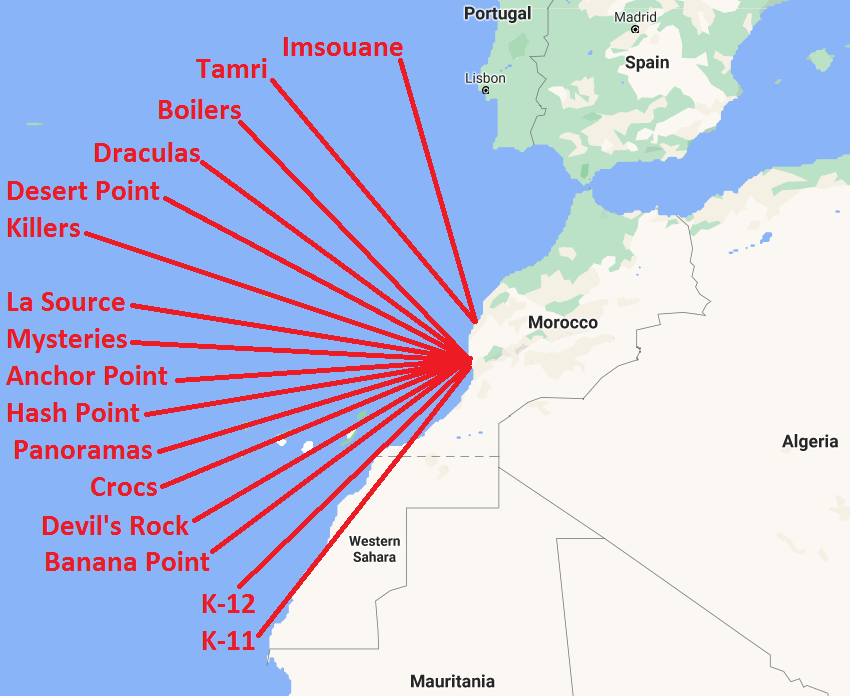 Surf Spots in Morocco for Intermediates:
La Source:
La Source is a wonderful reef break. Actually, it is an A-frame wave breaking over a rocky bottom, but it also has some sandy sections. On a good day, you can ride it for about 100-150 meters, and it is suitable for all skill levels.
Mysteries:
This one is definitely a world-class surf spot in Morocco. It breaks over a reef and can run up to 250 meters with some barreling sections and a fun wall. Up to 5 feet, it is a fantastic wave to ride, but above that, it starts to close out.
Hash Point:
This right-hand point break is located right in front of Taghazout. Due to its location, it is always crowded with both locals and foreigners who come to explore the surf beaches of Morocco. The waves here are fast, long, and suitable to all levels.
K-11 and K-12:
These spots got their name for their distance from Agadir. While K-11 is one of the only left breaks in the area, K-12 is an A-frame that opens up to both sides. Both spots offer a pretty easy ride and are perfect for goofy footers.
Desert Point:
This point break produces amazingly long right-hand waves. However, it requires a big swell to perform well. Therefore, wait for the right day to score it, and you will not regret coming here. 
Tamri:
You will need to head further north to reach this spot. However, on the flat days, when no other spot is working, Tamri always produces some surfable waves. This beach break works on any day, any tide, and any swell direction. 
Surf Spots in Morocco for Advanced Surfers:
Anchor Point:
This is the most famous surf spot in Morocco and the main reason why people come from all over the world to surf in Morocco. This right-hand point break in Taghazout is a world-class wave. In fact, it has 3 different sections with a fast wall and massive barrels. This spot is definitely a place you must visit during your surf trip to Morocco.
Killer Point:
This one is probably the most consistent spot in the area. Therefore, you can count on it on the days when the swell is small. Even though it requires a long paddle to get to the lineup, it also produces incredibly long rides to the right and good barrels.
Boilers:
This break is always bigger than the other spots and requires high skills to surf. It is long and powerful, but only a fast surfer can make all the sections. If you know what you are doing, don't miss out on this spot, but if you are a beginner, this one is not for you.
Dracula's:
Similarly to Boilers, this is also a spot for advanced surfers only. With big sharp rocks, strong currents, and long massive barrels, this is a perfect wave for those who can handle it. 
If you are new to surfing and looking for beginner waves, check out our post about beginner surf beaches in Morocco.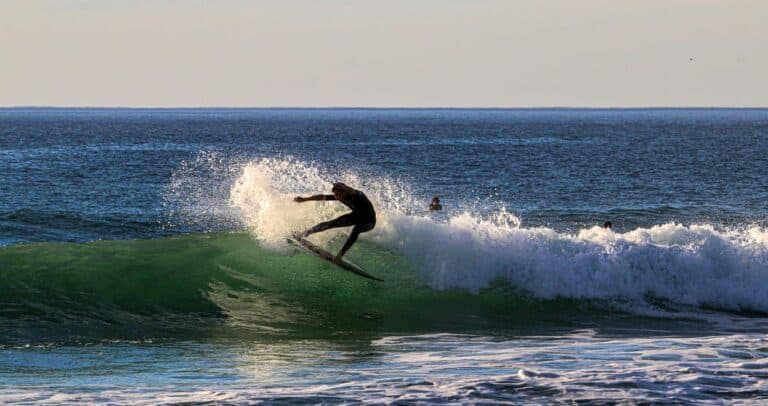 Surf Seasons in Morocco
In general, you can surf in Morocco 365 days a year. Since this coastline picks up both NW and SW swells, you can always find something to ride on somewhere along the coast. However, the best surf season in Morocco is the winter, between October and March. During these months, the swell is big and highly consistent. Moreover, the offshore winds blow from the desert and contribute to the perfect surf conditions.
The air temperaure during the season typically averages 22°C. The days are always sunny, but the nights can get pretty cold, so bring some long sleeves for the evenings. Accordingly, the water temperature is usually around 18°C. Therefore, when surfing in Morocco, you must bring your full wet suit. A 3/2 one will usually be enough, but for the sensitive ones, better bring a 4/3.
Keep in mind that during the peak of the season (December and January), the swell can be huge, sometimes even 10-15 feet. If you are an advanced surfer, these months will be perfect for you. However, if you are still not at this level, you better come to explore the surf beaches of Morocco at the beginning or end of the season, when the waves are around 4-7 feet and a bit more forgiving.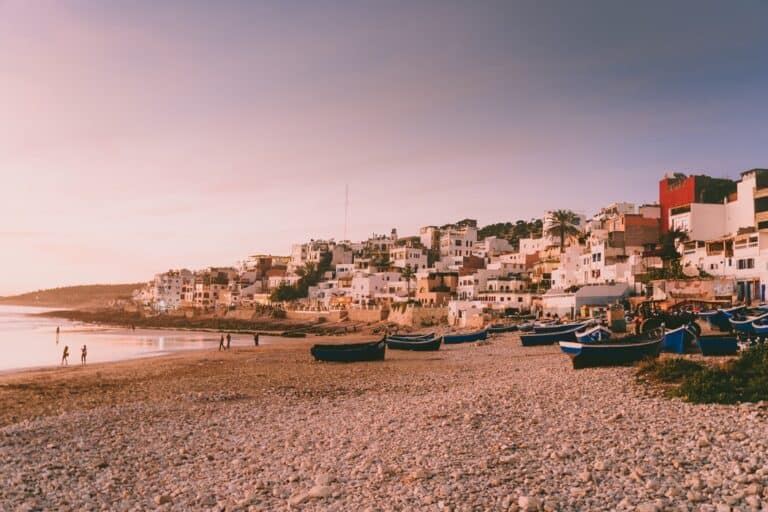 Surf Camps in Morocco
If you are a beginner making his first steps in the surfing world, the best way to explore the surf spots in Morocco is at a surf camp. So, these are the most recommended surf camps in Morocco:
1. Pure Surf Camp, Taghazout– Pure Surf Camp is one of the most professional camps in the country and offers several surf programs for all skill levels in Taghazout.
For more details about surf camps in Taghazout, please click here.
2. Blue Waves Surf House– This camp, Also in Taghazout, provides surf lessons for those who wish to learn how to pop up on a surfboard and get more speed and control in the green waves. The program also fits advanced surfers who want to go one step further in their technique and style.
For more details about surf camps in the Taghazout area, please click here.
3. Surf Berbere– The camp offers a range of fantastic surf and yoga holidays.
For more details about surf camps in Morocco, please click here.
Surf Hotels in Morocco
When coming to surf in Morocco, you obviously want to stay in the right place, which means as close as possible to the best waves. So, these are some of the most recommended surf hotels in the country:
1. Immeuble Panorama TAGHAZOUT– Located in Taghazout, 200 m from Taghazout Beach, 1.9 km from Madraba Beach and 4.2 km from Golf Tazegzout, Immeuble Panorama TAGHAZOUT provides accommodation with a balcony and free WiFi. The property is 20 km from Marina Agadir and 20 km from Agadir Oufella Ruins.
2. Aftas beach house– Located in Taghazout, Aftas Appartement offers a restaurant. This self-catering accommodation features free WiFi. The apartment will provide you with a balcony and a terrace. Featuring a shower, the en-suite private bathrooms also come with complimentary toiletries. There is an additional bathroom. You can enjoy the sea view and Mountain View from the room.
3. The O Experience – Tayourt Lodge, Imsouane– Located in Imsouane, The O Experience – Tayourt Lodge offers beachfront accommodation a few steps from Plage d'Imsouane 2 and provides various facilities, such as a garden and a terrace. The property is situated 500 m from Plage d'Imsouane, 400 m from Imsouane, and 5 km from Tagant Imsouane. Attractions in the area include Tagayout, 13 km away, or Tildi, set 22 km from the property.
For more surf hotels in Morocco, check out our post about the best surf resorts in Morocco, or simply look for deals on Booking.com.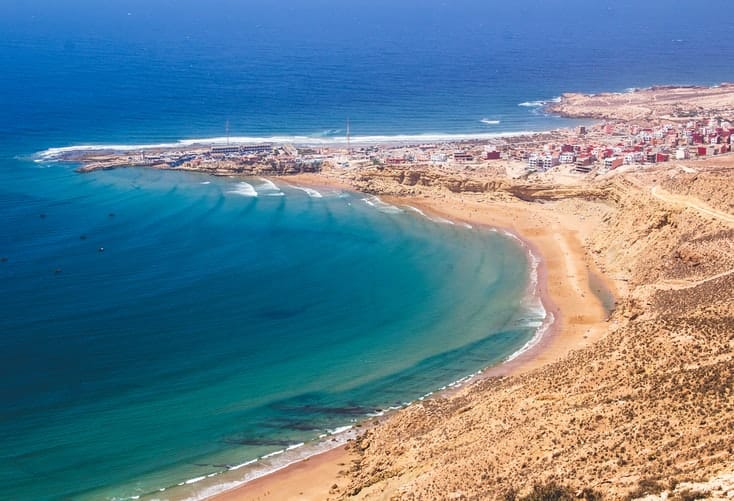 What Skill Level is Required to Surf in Morocco
There is an incredible selection of surf spots in Morocco, so surfers of all levels can find breaks that suit their skills. For instance, beginners can surf mellow waves in spots like Banana Point and Imsouane. Intermediate surfers, though, will find more challenging waves in La Source and Hash Point. And finally, if you are an advanced surfer, you can ride fantastic barrels in Anchor Point and Boilers.
Which Town in Morocco
is Best to Stay At on a Surf Trip
On a surf trip, it is best to focus on one area to spend more time surfing and less traveling. However, there are many great surf beaches in Morocco, and sometimes, it can be hard to choose where to stay. So, considering the waves and the general atmosphere of the place, these 2 towns are the most recommended locations to stay:
1. Taghazout– This is, without a doubt, the Moroccan surf capital. The town is surf-oriented and offers a variety of hotels, shops, restaurants, and surf camps. Moreover, some of the best surf spots in Morocco are found here.
2. Imsouane– In this town, you will find one of the longest waves in the country. It is considered an easy wave to ride and suitable for beginners and intermediates. Therefore, it is a perfect spot to spend a week or two. 
Morocco
– Travel Information
Language- Arabic.
Population- about 40 million.
Currency- Moroccan dirham.
Calling code- +212.
Time zone- GMT +1.
Pros- long waves, interesting culture.
Cons- cold water, lack of left-hand waves. 
Conclusion- Final Thought
To sum up, surfing in Morocco combines perfect surf and great culture wrapped in a desert atmosphere. Therefore, you should definitely count Morocco for your next surf trip. We hope this surf guide helped you in your search for the best surf spots in Morocco. Have a great surf trip!
Finally, if you are looking for other surf destinations in Africa, you can head South to South Africa. In contrast, you can head West to the Canary Islands, or even North to Portugal, France, and the rest of Europe.