If you are looking for the best surf spots in Sri Lanka you came to the right place. In this guide you will find all the information you need in order to plan your surf trip to Sri Lanka. From general travel info, to surf seasons, surf spots, and everything else you need to know about surfing in Sri Lanka.
About Surfing in Sri Lanka
If you like warm water, long waves, and living like a king with a small budget, you need to go surf Sri Lanka. In fact, this amazing country became very popular among surfers in the last few years, and for a good reason. It offers all types of breaks for all skill levels, so all you need to do is to choose the right beach according to the swell size and the time of the year. Good surf is always available here!
Travel Information
Language- several indo languages, mostly Sinhala.
Currency- Sri Lankan rupee.
Population- about 22 million.
Calling code- +94.
Time zone- GMT +5:30.
Pros- consistent year round surf, great selection of surf breaks, warm water, cheap travel.
Cons- none.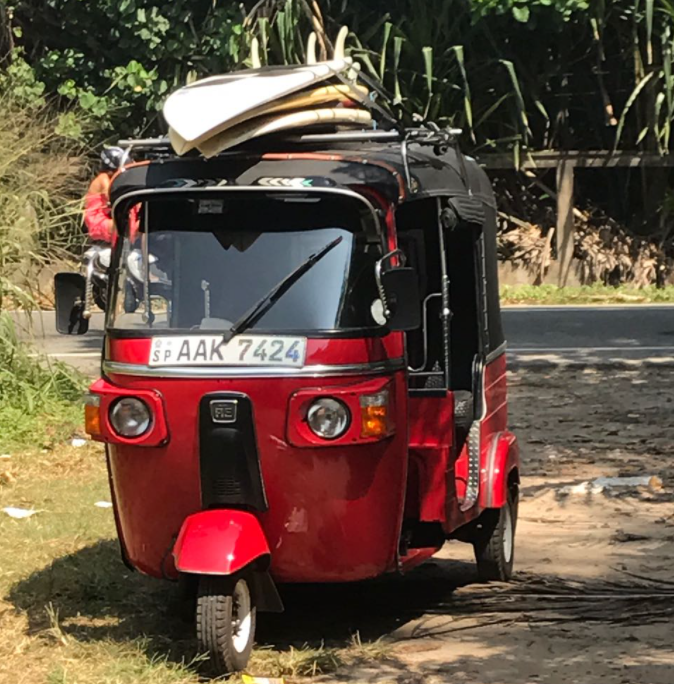 Surf Seasons in Sri Lanka
Sri Lanka's surf season last all year long. Actually, it receives the same swell as the Maldives Islands, but with less power. Sri Lanka is divided into 2 different surfing areas, and each one of them perform half of the year, while the other is flat.
From November to April the surf is up on the West Coast.
In contrast, from May to October the surf is up on the East Coast.
To clarify, the closer you will be to the peak of the seasons (July/August in the East and January/February in the West), the more consistent the surf will be. Therefore, to play it safe, you better calculate your steps to avoid the transition months (October/November and April/May).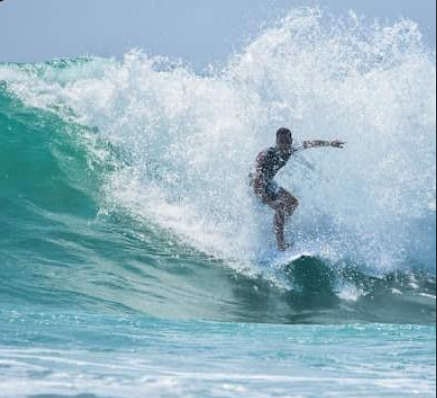 Surf Spots in Sri Lanka's West Coast
Surfing Sri Lanka's South West Coast has many options to offer. Actualy, it has beach breaks, point breaks, and reefs, to both left and right sides. Moreover, the good beaches are very close to each other, so you can move around with your Tuk Tuk (a taxi with 3 wheels) driver and choose your favorite peak. Usually, he will also wait for you and watch your stuff in order to drive you back to your hotel.
In detail, those are the main surf spots in the West coast, from north to south:
If you drive about 3 hours south from the capital Colombo, you will get to this wonderful surf town. Hikkaduwa has the perfect balance between being a party town and a surf town. On the main reef, in front of Funky De Bar hotel, you will find the best wave breaking with perfect shape to both sides. If you walk or paddle 300 meters south the wave will be a bit softer, and if you keep going even further, you will get to the beach break, in front of hotel Ritas, which is a great beginner's spot.
Unawatuna:
This town is a much more relaxed than Hikkaduwa, and better for families. Actually, the waves here are more mallow and great for beginners and for longboards.
Most of the bay produces a soft beach break, but if you are an advanced surfer you can head to the corner of the beach and surf over the reef, where the waves are more challenging.
Kabalana:
Definitely one of the best spots in Sri Lanka. Kabalana offers 2 main breaks. The first one is right in front of the big rock (you will see it in the water), and produce long rides and steep wall. The second one, 300 meters south, is mellower and beginner's friendly.
Weligama:
Weligama bay has small and soft waves, breaking over a sandy bottom. Therefore, it is a great place for beginners. However, if you skill level is higher than that, don't waste your time here, there are better spots.
Midigama:
This is a small village with 3 great surf breaks. The first one is "Lazy Left". As its name reveals, it is a mellow and soft left hand point break, great for longboards and goofy footers. Unfortunately, this spot requires a big swell in order to perform well.
The second spot is "Lazy Right", which offers the exact same surf conditions, but to the right side. On both spots you can get extremely long and slow rides.
The third spot is "Rams". Unlike the other 2 spots, this is a strong reef break which tend to barrel often, and good for experts only. Due to its quality and shape, it is always crowded and competitive.
Gurubebila:
This is a very nice and lovable spot which offers 2 different breaks. The first one is Plantation, which is a soft right hand reef break, while the second, about 300 meters south, is called Coconut, and offers a little stronger A frame break.
One of the most beautiful places you will surf in Sri Lanka. However, Mirissa requires a big swell in order to perform. Once such swell hit, the waves break on the right side of the bay and create an amazing right hand point break over the reef, with long mellow rides. Watch out from sea urchins on the entry and exit.
Madiha:
Luckily, Madiha beach is well exposed to any swell type. Therefore, you can always find something to ride here, and on the days when Mirissa is too small, you can take a 5 minute's Tuk Tuk ride and get your waves here. On the right side of the beach you can surf a reef break with an A frame shape, and on the left side, only if you are an advanced surfer, you can enjoy a left tube ride over a shallow reef.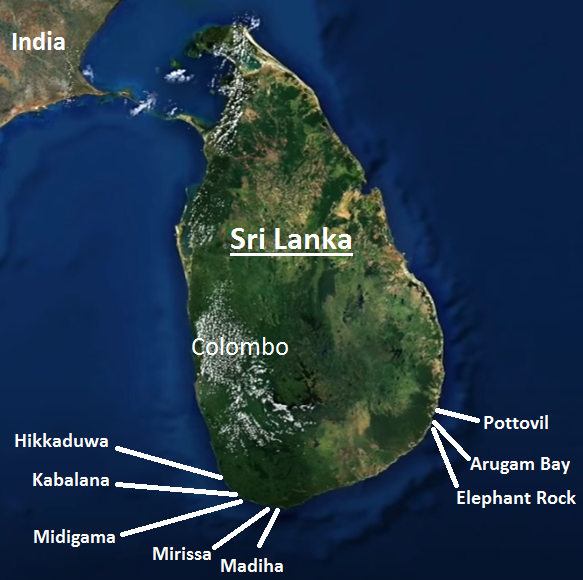 Surf Spots in Sri Lanka's East Coast
If you surf Sri Lanka between May to October, the East side is where you want to be. Unlike the West side, the East Coast doesn't have beach breaks, and no left hand waves either. In fact, all the spots in this area are right hand point breaks. In other words, if you are a regular footer, it is a dream come true. However, if you are a goofy footer, you have a great opportunity to practice your backside.
In detail, those are the main surf spots on the East Coast of Sri Lanka:
You probably heard about this spot, as it is famous as a world class wave. On the tip of the bay there is the main point, which is a right hand point break over a rocky bottom. The wave is open, long, fast, and sometimes hollow. Actually, it is probably the best wave in Sri Lanka.
Inside the bay there is the "Baby Point", which is a beginner's wave breaking over a sandy bottom.
Pottovil:
Located about 5 minute's Tuk Tuk drive from Arugam Bay, pottovil is another long right point break, which is slower and softer.
A short walk from there, after a big rock, you will find Whisky point, also a right hander.
Elephant Rock and Peanut Farm:
Elephant rock is located about 5 minutes from Arugam Bay on a beautiful beach. "Surprisingly", this one is also a right hand point break, with a soft break which is good for beginners. Elephants tend to hang out on this beach, especially during the afternoons. It is an absolutely amazing sight, but don't get near them, they are dangerous.
A few minutes south from there you can surf Peanut Farm, which has more power on the break, and better for advanced surfers.
If you are new to surfing, and you are looking for beginner waves, check out our post about beginner surf beaches in Sri Lanka.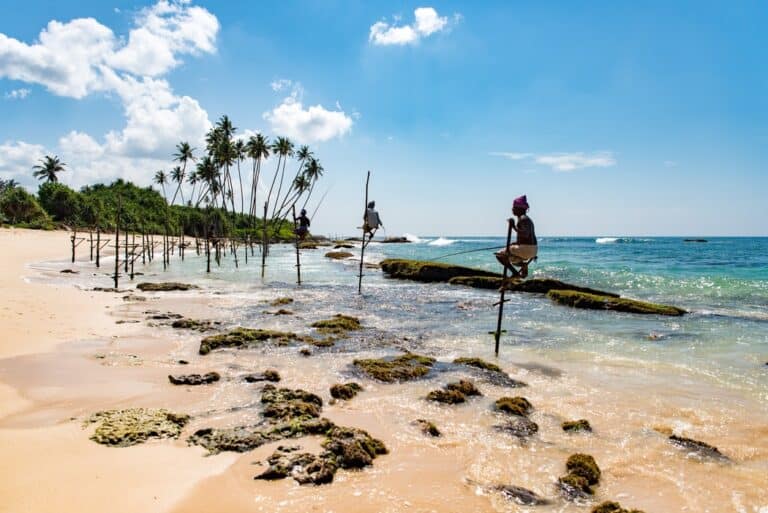 Surf Hotels in Sri Lanka
Sri Lanka is maybe the cheapest destination you will ever surf. For that reason, you can stay here on great hotels, right on the beach, for $30-40 a night. Moreover, if you want to make it even less, you can stay across the street for even $5-10.
On the West Coast the best towns to stay at are either Hikkaduwa or Mirissa. Since they are both more touristic you will be able to enjoy some good restaurants, shops and bars, and also have access to the good surf spots.
On the East Coast, the only place recommended to stay at is Arugam bay. This is where the main surf is, and you can always take a Tuk Tuk to surf the other spots
When coming to surf in Sri Lanka you want to make sure you stay in the right place, which basically means, as close as possible to the best surf spots. These are some of the most recommended surf hotels in the country:
Ritas Hotel, Hikkaduwa– Ritas Hotel is situated right on Hikkaduwa Beach, in front of the beginner's beach break. It offers fan or air-conditioned rooms with private bathrooms and ocean front balconies.
Surf Sea Breeze, Mirissa– Offering a restaurant, Surf Sea Breeze, this front property is located in Mirissa South, right in front of the right hand point break. This is the best location a surfer can get in Mirissa.
Baywings, Arugam Bay– Situated in front of Baby Point, just few steps from Arugam Bay Beach, Baywings features accommodation with a restaurant, free private parking and a garden.
For more surf hotels in Sri Lanka check out our post about surf resorts in Sri Lanka, or simply search for the best deals on Booking.com.
How to Get
In general, the international flight will always land in the capital Colombo. Then, from the Airport you need to take a taxi to your destination. Don't be overwhelmed with all the different transportation companies, in reality, they all the same.
While getting to Hikkaduwa will take you about 3 hours, to mirissa it will be about 4 hours. If you are heading to Arugam bay your journey will be a bit tougher, and will last approximately 10 hours.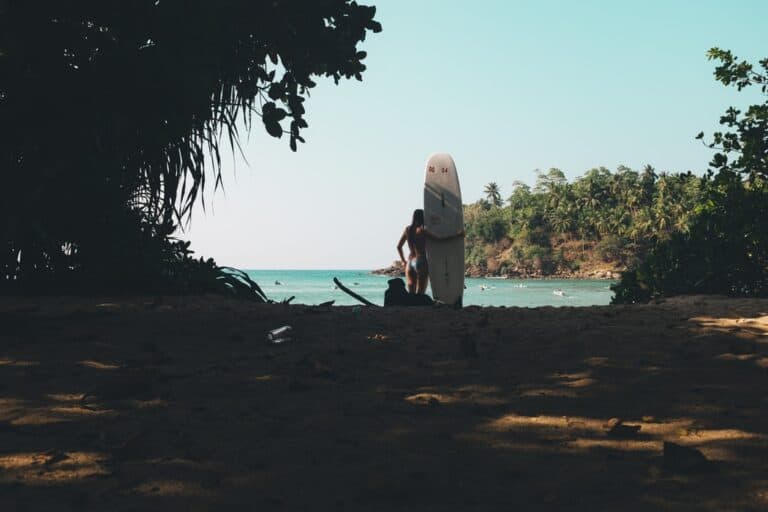 Surf Camps in Sri Lanka
If you are a beginner, or new to surfing, the best way to explore Sri Lanka's surf scene on a surf camp. In detail, those are the most recommended ones:
Kimasurf in Weligama.
Star Rest Beach hotel in Arugam Bay.
Lapoint surf camp at Ahangama.
Shaka Surf Camps.
Elsewhere surf Camps & Yoga retreats Sri Lanka.
For more details please visit our post about the best surf camps in Sri Lanka.

Nightlife
Sri Lanka is a Buddhist country, and most places don't offer any nightlife scene. However, Hikkaduwa and Mirissa became pretty touristic, and therefore, can be considered as "party towns". In fact, the concept is pretty simple, in every night of the week there is a party on one of the hotels on the beach. Just ask the locals and they will tell you where it is.
In Arugam Bay there are also few bars, but it is definitely less crazy.
Food
The main dish of Sri Lanka is rise&curry. They have their own variety to it, with Chicken, fish, sea food etc. If you like spicy Indian food then you will love it. However if that's not your taste, no worries, they have Pizza, Burger, and great sea food.
To sum up, surfing in Sri Lanka should be the greatest thing you can give yourself as a surfer. It is an opportunity to ride spectacular waves in a completely different culture, and great vibes.
Thank you for visiting our surfing blog. If you like Reef Break, check out our online store, we have some cool T-shirt designs.
Have an awesome day!