If you are looking for the best surf spots in Costa Rica you came to the right place. In this article you will find all the information you need in order to plan your next surf trip. From general travel info, to surf seasons, and of course, the best surf spots in Costa Rica. 
About Surfing Costa Rica
It is fair to say that surfing in Costa Rica is pretty much any surfer's wet dream. In fact, it is one of the most popular surf destination in the world. The things that make Costa Rica such a popular surf destination are the consistent waves 365 days a year, huge variety of surf spots, warm water (27-28°C all year long), and finally, kind and friendly local people. Therefore, any surfer must come here at least once in his lifetime and find the magic of the best surf spots in Costa Rica.
While been considered the safest country to travel in Central America, Costa Rica attracts thousands of surfers every year. From obvious reasons, they keep coming to enjoy the ocean, the nature, and above all, the "Pura Vida" lifestyle, as the locals call it, which means "the pure life".
Costa Rica is probably born to be the perfect surf destination. It faces both the Pacific and the Atlantic oceans, which consequently guarantee consistent swells and huge variety of surf breaks. For example, you can often find beach breaks, point breaks, and reef breaks, within a short walking distance from each other. For that reason, whether you are a beginner or an advance surfer, you will find the right waves for yourself.
To sum up, going to surf Costa Rica is probably the best decision you will make as a surfer, and you will probably have the best time of your life.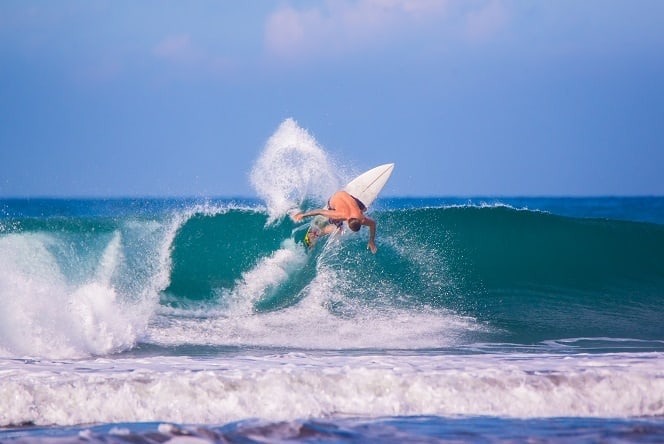 Travel Info
Language- Spanish.
Currency- Costa Rican Colon.
Electricity- 110 volt, 60 cycle electricity, same as the US
Population- about 5 million.
Calling code- +506.
Time zone- GMT -6.
Pros- Sandy beach breaks, variety of surf breaks, year round consistency, warm water, great nightlife, welcoming locals, safest country in Latin America.
Cons- expensive prices, crowded lineups, lack of beach front accommodations. 
Surf Seasons in Costa Rica
There are 2 major surf seasons in Costa Rica:
Wet season– between May and November, this time of the year represent the low season. If you are going to surf Costa Rica during these months, you will be happy to know that the waves are usually bigger (5-10 ft) and prices are significantly lower. However, the down side is that there will be at least 1-2 hours of rain almost every day, and some roads will be flooded.
Dry season– between Decembers and April, this time of the year is the high season, and the more convenient time for a Costa Rican surf travel. In fact, during these months the waves are not as big ("only" 3-6 feet), but much cleaner and glassier. In addition, prices will be higher during this time.
On the Caribbean coast the seasons are different than in the Pacific side, and the good surfing months are from December to March. Therefore, if you want to surf Puerto Viejo make sure you go around this time of the year.
In reality, as surfers, we are depended on the unpredictable swells. Therefore, in both seasons there will probably be some big days and small days. The good news is that when surfing in Costa Rica you can always find some surfable waves. Actually, you just need to go to the right beach according to swell size. 
For example, Pavones, Jaco and Tamarindo require a big swell in order to perform well. In the other hand, Playa Hermosa, Dominical, and Avellanas work well also on small days.
In summary, every day of the year is a good day to surf Costa Rica.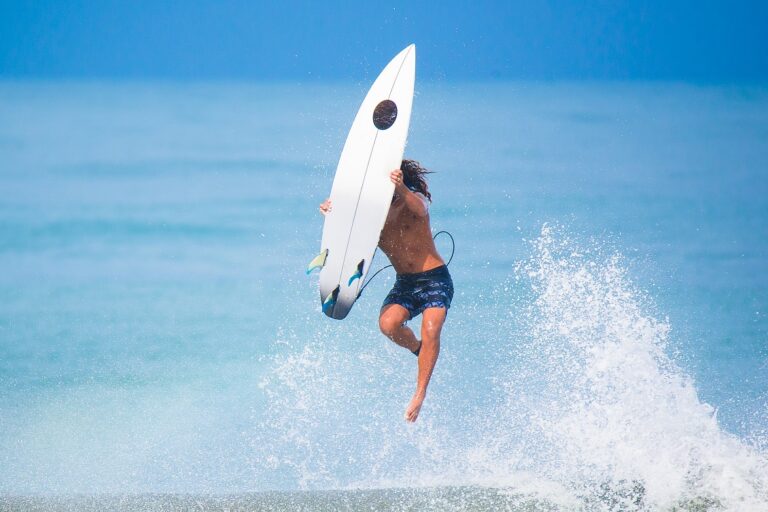 The Best Surf

Spots in Costa Rica
Costa Rica offers an unbelievable amount of surf breaks. In fact, there are so many of them, that if you just rent a car and stop at random places along the coast, you will score a perfect wave almost every single time. The Costa Rican coastline is divided into different areas and contains huge variety of spots of all different kinds:
Some of them are known and famous, and some are secrets kept with the locals,
Some perform better during high tide, and some are better when it's low,
While some are good for the dry season, others work only on the wet one,
Some require a big swell, and some can get the job done even on the smallest days.
In detail, these are the best surf spots in Costa Rica:
North Pacific Coast:
Witches Rock– amazing barrel breaking in front of a huge rock.
Oli's Point– a right hand point break with a very open wall.
Playa Grande– small town with a great beach break.
Playa Tamarindo– a touristic party town with mostly beginner's spots.
Playa Langosta– a reef break with several different sections.
Playa Avellanas– multiple different peaks with massive tube rides.
Playa Negra– pure barrel ride, recommended for experienced surfers only.
Nosara– wonderful hippie town with consistent surf.
Samara– typical beach break.
Central Pacific Coast:
Santa Teresa&Malpais– probably the most popular surf town it Costa Rica.
Boca Barranca– extremely long left point break, performs only on big swells.
Playa Jaco– a party town with mellow surf, mostly for beginners.
Playa Hermosa– powerful barrels for experts only.
South Pacific Coast:
Playa Dominical– strong beach break with great barrels.
Matapalo– a right hand point breaks.
Pavones– the second longest left in the world, and maybe the best surf spot in Costa Rica.
Caribbean Coast:
Puerto Viejo– Caribbean town with massive surf during high season. 
If you are new to surfing, and you are looking for beginner waves, check out our post about beginner surf beaches in Costa Rica.
Note that in Costa Rica the Tides change drastically every few hours, so it is crucial to be aware of the times of high and low tide. Depending on the beach you are surfing at, you will want to know when is the best time to be in the water to score the best waves. Therefore, you can either ask the locals, or to use this live tide chart.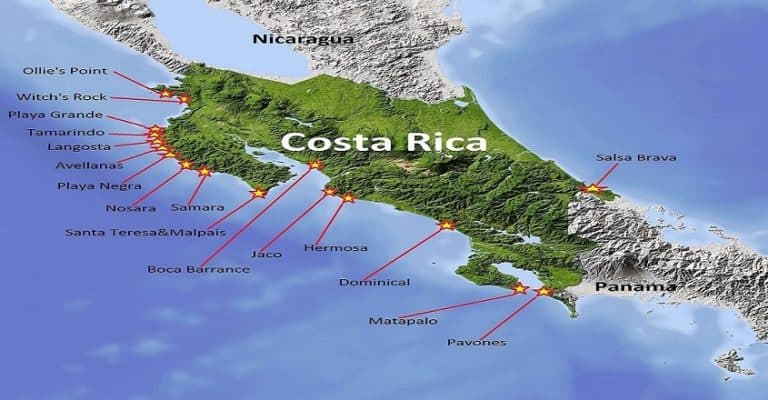 Flights
There are 2 international airports in Costa Rica:
Juan Santamaria Airport– this is the main airport, located next to the capital San Jose.
Daniel Oduber Quirós Airport– also known as Liberia International Airport, in the Guanacaste region, close to Tamarindo.


Most Airlines will normally offer better prices for landing in San Jose, but that is also depended on where you are flying from.
The best website to find cheap flights to Costa Rica is definitely www.skyscanner.com. All you need to do is log in, type your dates and destination, and make the booking. My advice, from experience, is that if you find a good deal, book it on the spot. In most cases it will unfortunately disappear pretty quickly. 
Remember, if you are going to surf Costa Rica and you want to bring your own board, check with the Airline that there are no extra costs for that. In fact, the best thing to do is just to use the board case as a suitcase, and through your clothes in there (it will also protect it better).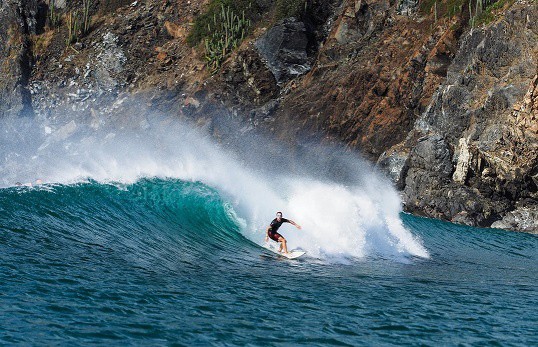 Surf Hotels in Costa Rica
Costa Rica is certainly one of the most visited countries in the world. Therefore, in almost every town you are likely to find all range of accommodations
When coming to surf in Costa Rica you want to make sure you stay in the right place, which basically means, as close as possible to the waves. These are some of the most recommended surf hotels in the country:
Selina, Santa Teresa North– This place is the ultimate surf hotel. It has great location in front of the waves, surfboard rental, lessons, and friendly people.
Hona Beach Hotel, Dominical– Hona Beach Hotel offers beachfront accommodation, just 1 minute walk from the beach. It has various facilities, such as a restaurant, an outdoor swimming pool and a garden
Playa Grande Surf Camp– Located just steps from Playa Grande beach, Playa Grande Surf Camp offers an outdoor pool, BBQ area, full shared kitchen, and lounging hammocks. Free WiFi access is available throughout.
Nosara Beach Hotel– This property is 4 minutes' walk from the beach. Situated in Nosara, 50 m from Pelada Beach, Nosara Beach Hotel features accommodation with a restaurant, free private parking, an outdoor swimming pool and a bar. 200 m from Guiones Beach and 1.6 km from Nosara Beach, the property offers a garden and a terrace.
For more surf hotels in Costa Rica check out our post about the best surf resorts in Costa Rica, or simply search for the best deals on Booking.com.
Surf Camps in Costa Rica
One of the best ways for beginners to explore Costa Rica's surf scene is through a surf camp. In fact, this way of traveling became extremely popular in the last few years, and for a good reason. Almost every surf town in Costa Rica offers at least one good surf school or a surf camp.
In Tamarindo, Nosara, Santa Teresa, Jaco, Dominicl, and Puerto Viejo you will find the best surf camps. Moreover, those surf camps are usually all inclusive, or at least partially. That means that they pick you up from the Airport, take you to your camp where you meet people just like yourself, who want to learn to surf and explore the country. Accommodations are included, meals as well, and you get dedicated surf guides who take you to the best surf spots, and guide you until you surf like a champion. It is amazing how fast you can learn to surf if you have the right guidance. 
As for the prices, it varies from $300 to $1,000 a week, depends which camp you choose. Either way, it is totally worth it for what you are getting.
For more details please visit our post about the best surf camps in Costa Rica.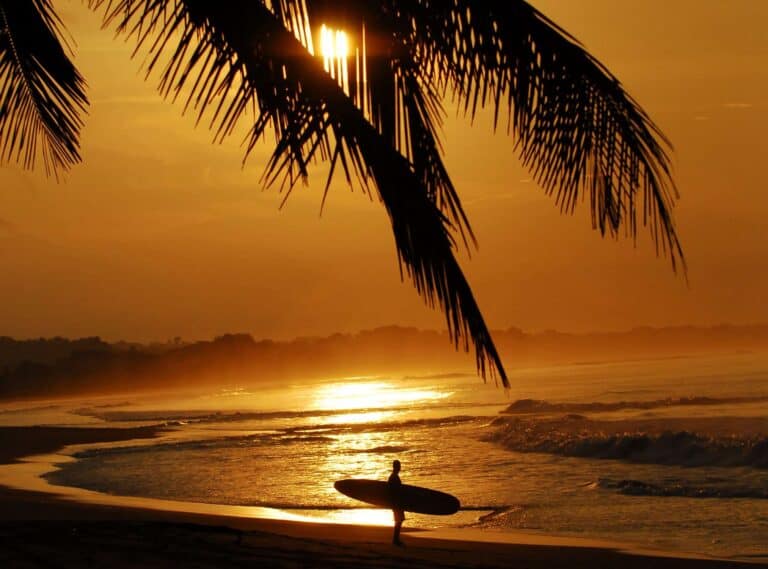 Food
If you are going for a surf trip in Costa Rica, you better like rise and beans, because that is the most common thing you will see on the plates here. With that being said, don't worry if you don't. The American influence is here with all its power, and on any town you will find Pizza, Hamburger, and amazing sea food.
Nightlife in Costa Rica
Most beach towns in Costa Rica are pretty basic. Furthermore, it is quiet and undeveloped, and therefore, you will not find much to do after the sun goes down. 
And yet, few towns are an exception to that statement:
Tamarindo, Santa Teresa, Jaco, and Puerto Viejo are hardcore party towns. In those places the party is alive and kicking almost every single night of the week. From small restaurant bars to electric night clubs, everything is at reach. So if you like to party, those towns are definitely where you want to be.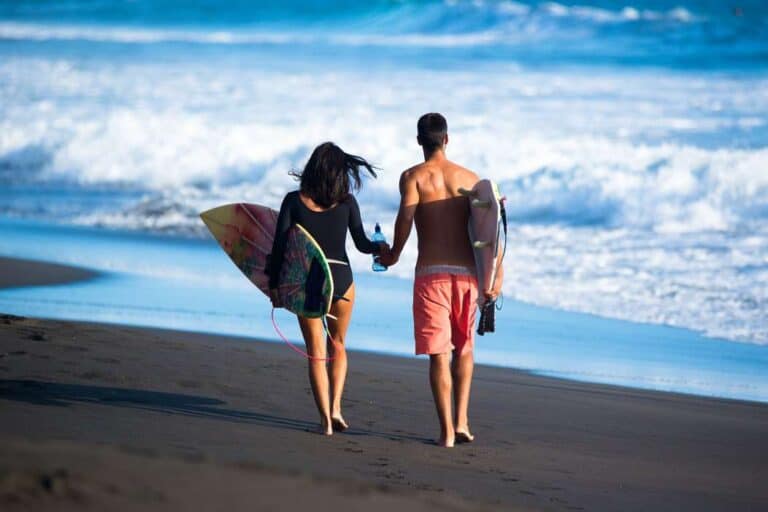 Activities other than Surfing in Costa Rica
Off course, you are here on a Costa Rican surf mission, and you will most likely to ride those beautiful waves every single day of your vacation. And yet, if you feel like doing something else, there is plenty of that too. Costa Rica offers an amazing variety of fun things to do, those are the main ones:
Ziplining– With so many rain forests you can find many spots to slide between the trees and see the beauty of this country from above.
Horseback Riding– a great idea for a few hours trip.
Sailing – Many local companies are offering sunset cruises. Some of them are more relaxed, and some have more of a party vibe. Choose your own favorite style.
Diving and Snorkeling– On the quiet beaches, where the waves can't reach, you can find a great underwater world. On the Caribbean side it is even better as the water is glassier.
Massage– When your muscles are soaring from surfing, there is nothing better than a relaxing massage on the beach.
Rent a paddle board– As a surfer, you may think paddle boards are slow and boring, but it is actually great fun to catch waves on one of those, or even just to paddle out there.
Waterfalls day trips– With so many rivers in Costa Rica, you can find a hidden waterfall next to almost every town. In some of them you can even jump, just watch out from the rocks.
Fishing– Whether you through a pull from the beach, or do it from a boat far in the deep water, with such a reach life under water, catching dinner is a very easy task in Costa Rica.
White Water Rafting– This is one of the most exciting thing you can do in Costa Rica, for a huge spike of adrenaline.
Whale Watching– Take a boat tour at any activity center, for an unforgettable experience.
To sum up, surfing in Costa Rica is much more than just riding waves. It is a vibe, a feeling, and above all, a great memory. Moreover, After exploring the magic of the best surf spots in Costa Rica you can combine your surf trip to Costa Rica with its neighbor countries. For instance, Panama in the south, and Nicaragua in the north offer some great surfing as well. Try them, you will be surprised.
Thank you for visiting our surfing blog. If you like Reef Break, check out our online store, we have some cool T-shirt designs.
Have an awesome day!